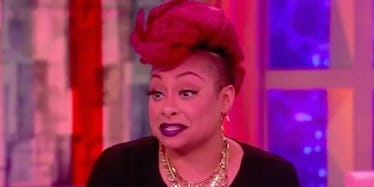 Raven-Symoné Discriminates Against Certain Names And People Are Pissed
The View
Dear lord, Raven. You really need to stop.
On Thursday's episode of "The View," cohost Raven-Symoné admitted she discriminates based on names when it comes to hiring people.
She said,
I'm not about to hire you if your name is 'Watermelondrea.' It's just not gonna happen! I'm not gonna hire you!
She proceeded to laugh hysterically, failing to see any wrong in the statement she just made.
You can listen to her full comment in the clip below.
Many people were angry these discriminatory comments came from someone who has a unique name like Raven.
Poetry was used to help express feelings.
It's safe to say no one will be sharing a Coke with Raven.
When it came down to it, most people were just extremely disappointed.
Long story short, what she said just wasn't OK.
Maybe you should think about what's coming out of your mouth before you speak next time, Raven. Or better yet, don't say anything at all.
Citations: Raven-Symone Getting Ripped for... Refusing to Hire 'Black' Names (TMZ)