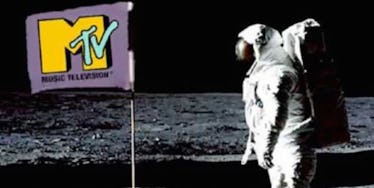 Video Killed The Radio Star: Why MTV Doesn't Have The Same Influence
MTV
MTV, or Music Television, was once where artists would go to become stars.
The MTV Music and Movie Awards were events artists worked toward, rather than worked around.
With the rush of social media and the expansion of entrepreneurial success, MTV has lost what made it revolutionary: its ability to find and promote quality music.
The spotlight and expansion of fame and fortune in a media-driven world has sadly made MTV a platform for the promotion of celebrity gossip, best and worst dressed and reality television.
So, yes, it's influential, but that's not what music ever has or ever should be about.
What happened, MTV?
MTV's beginning in 1981 had a purpose to be music television, playing music videos 24/7 to create a platform for music talent focused at a young adult demographic.
Launching with the words, "Ladies and gentleman, rock and roll," the new music channel created its name.
"You'll never look at music the same way again," and "On cable, in stereo" rolled through the opening credits of the Apollo 11 moon landing with the MTV flag proudly being "placed on the moon," ultimately becoming the universal symbol for MTV.
The first music video shown was Buggles' "Video Killed the Radio Star," a timely hit generations still recognize today.
MTV's influence was instant, thrusting music and bands that local radio shows were not playing into record stores around America.
Rock bands and performers of the 1980s, who were the main stars of MTV, ranged from new wave to hard rock bands, such as Eurythmics, Prince, Van Halen, The Police and Bon Jovi, as well as the likes of Weird Al Yankovic who parodied all these videos (still hilarious today).
MTV respected the classic rock acts from the 1980s and earlier, such as David Bowie, The Rolling Stones, The Who, Paul McCartney and even had hard rock band Kiss appear publicly without their trademark makeup for the first time in 1983.
All were artists of the generation; all were made famous by MTV.
These songs and bands were brought to us by on-air personalities known as VJs, short for video jockeys. Remember them?
No, they weren't voiceover and reality TV stars; they simply began as music broadcasters bringing music to all viewers and listeners of cable TV, such as Alan Goodman and JJ Jackson.
Remember these guys? They may have started as TV personalities, but they evolved into respected journalists and music professionals, remaining in the business for decades.
That is what MTV circa 2006 onwards lacks: originality and purpose. It has a new market now, of teenagers seeking refuge in reality TV and celebrity puff pieces.
Although this is due to the social media era, and the broadcaster is simply "keeping up" with the technological age, the once-revolutionary channel has not had a significant impact, which other channels, such as Channel V and E! News, haven't either.
Once upon a time, MTV was the one and only place music lovers would flock to for inspiration and joint appreciation for new and old music.
In 2015, it's just not the same.
What's really changed is its focus and demographic.
No longer do we think of music when MTV is mentioned; instead, we think of shows like "Teen Mom," "Catfish" and "Jersey Shore."
Current? Yes. Entertaining? Perhaps. What MTV strived to be two and a half decades ago? Not exactly.
Particularly, with the evolvement of the MTV Video Music Awards (of which the lineup has just been released for this year), the focus is more on the entertainment and the celebrities involved, rather than the substance of what the music nature offers.
MTV still has respect for artists, of course, with tributes to passing performers and influential people, as well as awards for successful artists, but it prides itself on what it can offer in a form of advertisement rather than the music it wants to promote.
With a change of the times, of course, institutions must adapt, but at what expense of originality and artistic respect?
The days of pure music have passed and, instead, have been replaced with music videos of big booties and a lack of storylines.
I can hear Michael Jackson's "Thriller" crying from the musical genius archives.
Through retrospect and nostalgia, we can enjoy the days of artists, such as Michael Jackson and The Who, with their original music being broadcasted 24/7 on a channel that prided itself on creating a platform for people to enjoy it before the age of YouTube and social media.
MTV's influence has changed, and so has its featured talent.
Yes, the featured musicians are still artists, but they don't represent the originality of the revolutionary music channel that is MTV.
Video really did kill the radio star.