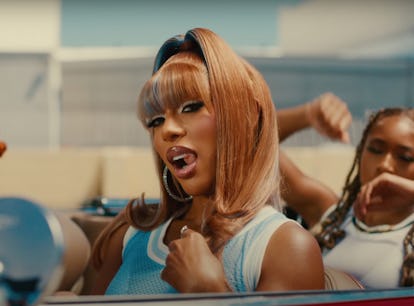 Victoria Monét Is A Y2K, Southern-Inspired Star In Her New Music Video
These R&B references are chef's kiss.
Victoria Monét has been on the prowl. The singer introduced her Jaguar era — a buttery R&B album filled with rich browns imageries and golden safaris — in August 2020, reminding the world that her lush vocals is just as impressive as her lyrical pen. Yes, she's the mastermind behind Ariana Grande's memorable 7 Rings mantra: "I want it, I got it." Now, nearly three years after the album's release, Monét's continuing her cat cosplay with Jaguar II. The star recently released a music video for her third single "On My Mama," and it's littered with iconic references to artists from the South.
On Aug. 14, Monét dropped the long-awaited visual for "On My Mama." This richly produced hit, which is on the cusp of a TikTok dance challenge, is the third offering from Jaguar II. With this closing out her trilogy of early singles, it's only right the music video has the greatest elements. And surprisingly, it does. Just shy of four minutes, Monét takes listeners on a infectious tribute to Black southern artists who shaped the early 2000s. This direction fits perfectly, as she interpolates "I Look Good" from Texas emcee Chalie Boy on "On My Mama." Ugh, we love an artist with taste.
The Child.-directed video begins with Monét channeling her inner Ciara, whose also a Texas native. Specifically, Monét took notes from Ciara's look in her 2004 "Oh" music video, with a hint of her slow-whining groove in "1, 2, Step." She then teleports to a lot of empty cars, where her and her dancers embrace choreography from Sean Bankhead with ease. From their "Chicken Head" moment to their slick arm movements, which calls back on this unintentionally iconic meme of Katie Got Bandz, it's clear Bankhead is a maestro with the references.
The rest of the video gleams with fitting odes to the South, such as her riding in a candy-apple red slab (Houston slang for a low-rise vintage car), honoring HBCU culture, and inviting Chalie Boy for a quick cameo.
This hypnotic release follows several album updates from Monét. On July 17, the "Monopoly" singer released the tracklist to Jaguar II — set to release on Aug. 25 — on Instagram. "I'm so happy to finally share this with you! Look at these FEATURES. screaming..what is life?!" Monét wrote on the post. Boasting 11 tracks, the album sees the singer trading vocals with Lucky Daye; KAYTRANADA; Earth, Wind & Fire (!); and her two-year-old daughter Hazel. A star readying another young star for greatness? Love to see it.
These sonic breadcrumbs have been decadent offerings from Monét, who knows how to shape-shift her vocals to fit any production. With her impressively acing this skill across her new singles, there's a chance it might continue on Jaguar II.
The tracklist news comes shortly after Monét announced the dates to her Jaguar Tour on July 10. The now sold out excursion will kick off in early September, with her visiting cities such as Detroit, Houston, New York, Las Vegas, and Los Angeles.
Tickets for the tour went on sale Friday, July 14. That same day, the R&B it-Girl excitedly announced on Instagram it had sold out. "Y'all my mind is BLOWN!!! You sold out this entire tour in minutes. I'm gonna cryyyyy! I did not expect all this but I'm so happy you really like me," she wrote at the time.
The tour's quick success didn't shock fans, as many have been aware of her talent since her early days at Motown Records. And now, with a new set of eyes on her, Monét's damn near unstoppable.
Check out all the details about Jaguar II and her sold out tour, below.
Jaguar II's Tracklist
Monét's forthcoming album features several surprise collaborations.
See the full tracklist below:
"Smoke (Ft. Lucky Daye)"
"Smoke (Reprise)"
"Party Girls (Ft. Buju Banton)"
"Alright"
"Cadillac (A Pimp's Anthem)"
"How Does It Make You Feel"
"On My Mama"
"I'm The One"
"Stop (Askin' Me 4Shyt)"
"Hollywood (Ft. Earth, Wind & Fire and Hazel Monét)"
"Goodbye"
Pre-Order Info For Jaguar II
Fans can now pre-save Monét's album on Spotify and Apple Music.
The Jaguar Tour Begins In The Fall
Victoria Monét's glittery tour will kick off in Detroit, Michigan on Sept. 6, 2023.
Where Will Monét Visit On The Jaguar Tour?
After her debut visit to Detroit, Victoria Monét will travel to cities like New York, Atlanta, Houston, Las Vegas and Los Angeles. She'll then close out in Chicago in late-October.
​​Sept. 6 in Detroit, MI at Majestic Theatre
Sept. 8 in Toronto, ON at Danforth Music Hall
Sept. 11 in Boston, MA at Royale
Sept. 13 in New York, NY at Webster Hall
Sept. 15 in Washington, DC at The Howard Theatre
Sept. 16 in Philadelphia, PA at Theatre of Living Arts (TLA)
Sept. 18 in Charlotte, NC at The Underground
Sept. 19 in Atlanta, GA at Buckhead Theatre
Sept. 21 in New Orleans, LA at Joy Theater New Orleans
Sept. 22 in Houston, TX at House of Blues
Sept. 24 in Dallas, TX at House of Blues
Sept. 26 in Denver, CO at Cervantes Masterpiece Ballroom
Sept. 28 in Las Vegas, NV at 24 Oxford
Sept. 29 in Phoenix, AZ at The Van Buren
Oct. 1 in San Diego, CA at The Observatory North Park
Oct. 3 in San Francisco, CA at The Regency Ballroom
Oct. 6 in Portland, OR at The Wonder Ballroom
Oct. 7 in Seattle, WA at The Showbox
Oct. 9 in Sacramento, CA at Ace of Spades
Oct. 11 in Los Angeles, CA at The Fonda Theatre
Oct. 22 in Chicago, IL at House of Blues
What's The Setlist For The Jaguar Tour?
It's safe to assume she'll perform both her Jaguar albums. The singer might show more love to Jaguar II, as it'll release a month before the tour starts. So far, Monét has dropped three singles off her upcoming project: "Party Girls" with Buju Banton, the Lucky Daye-assisted "Smoke," and "On My Mama."
"Party Girls"
If any track needs to be in rotation, it needs to be "Party Girls." This dancehall offering has a subtle waft of Beyoncé's 2003 hit, "Baby Boy," with a twinkle of Christina Millian's infectious "Dip It Low." They sonically exist in the same universe, and Monét's velvety vocals will have you slow whining on the dancefloor (and at her upcoming show) throughout the fall.
"Smoke"
The smoky flare on Monét and Lucky Daye's duet still lives rent free in fans' minds.
"On My Mama"
Like the icon she is, Monét interpolated the illest affirmation of all time (Chalie Boy's 2009 gem "I Look Good) on "On My Mama."
As for her first Jaguar project, fans might want to keep their ear on "A*s Like That" and "Touch Me." There's also "Coastin'," her sun-soaked anthem that released nearly a year after the first album.
This article was originally published on