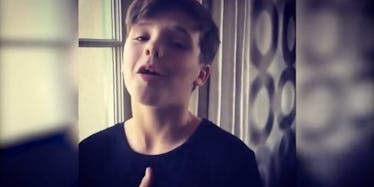 This Video Proves Victoria Beckham's Son Is Just As Talented As His Parents
Daily Mail
Some families are just wayyyyyyy too talented.
Cruz Beckham won the genetic friggin' lottery. His mother was part of the biggest girl group of all time, and his dad is UK soccer royalty. It's like the Wayne Gretzky of soccer married the Neil deGrasse Tyson of singing.
It's painfully obvious this kid was always going to be better than 99 percent of the world's population.
Of course, he's started singing at a young age, and, of course, his voice already sounds like two doves kissing in front of the Eiffel Tower because they just got engaged. I bet he's dope at soccer also and probably just an all-around nice kid, the kind teachers love to teach and fellow students love to come to for advice. God I hate him.
Just accept you aren't as good as Cruz Spice-Beckham and move on. It'll make your life wayyyyy easier.
Citations: Move aside Bieber Victoria Beckham posts incredibly cute video of her son Cruz 11 singing and fans are left stunned at his pitch perfect performance (Daily Mail)