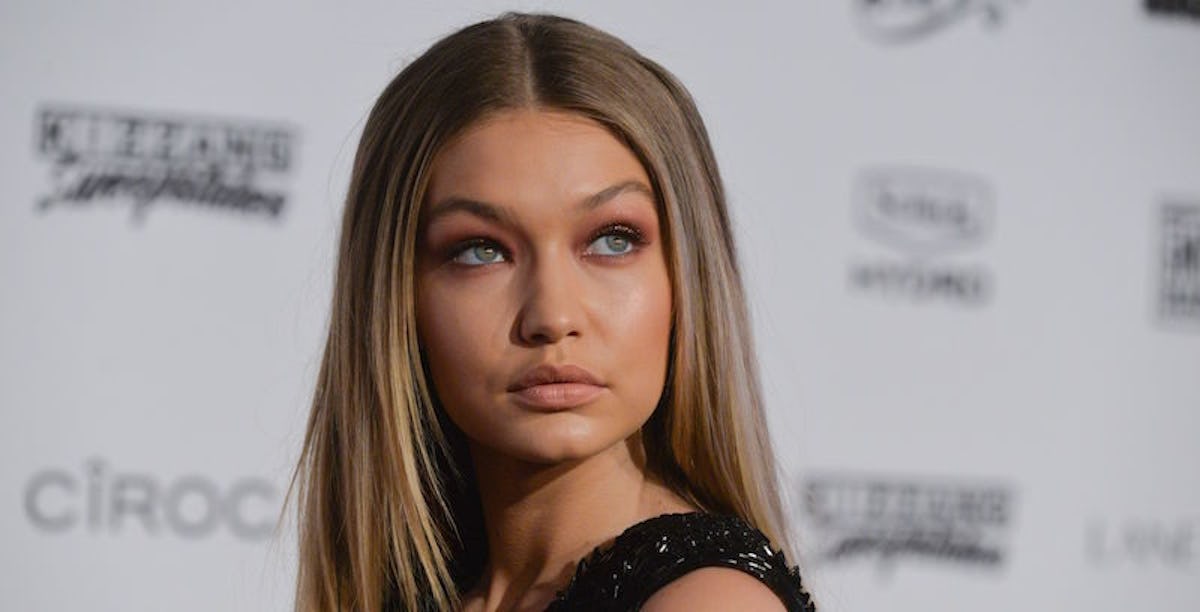 Versace Responds To People Criticizing Its New Campaign With Gigi Hadid
REX/Shutterstock
Everyone has an opinion about… Versace.
I know, I know. With a week full of Brock Turner updates and election news, you'd think no one would have time to roast walking Academy Award Donatella Versace, but this is America. We FIND the time.
Versace's Fall 2016 ad campaign first turned heads in a positive way and then in a negative way, and now, no one's sure where he or she stands, although we know it's somewhere in Chicago.
The campaign starred 17 non-professional models of varying ages and nationalities and was shot in Chitown by photographer Bruce Weber, Refinery29 reports.
What would a major fashion spread be, though, without a few experienced, recognizable, super-young beautifuls?
Karlie Kloss and Gigi Hadid both appear in the campaign as (impossibly) young mothers. Kloss' fake husband is covered in tattoos, while Hadid plays the matriarch of a stunning interracial family.
Initially, the ads garnered a positive response.
Yes mom @GiGiHadid !! Love this ad pic.twitter.com/tGRPvIsVmV — Deanna Lorraine (@D3annaBlack) June 4, 2016
Soon after, media outlets and potential customers began to criticize some of the issues existing within the campaign.
The idea of 21-year-old Gigi Hadid as a glamorous mother of two was more than most could wrap their heads around.
Jezebel posted a stirring and, at times, low-key hilarious article penned from the perspective of the young girl in the ad, chained to the stroller.
The post suggests Hadid is merely a step-mother to the children, saying,
Daddy showed up with this thin white lady a few weeks ago and it doesn't look like she's leaving soon… New mommy keeps calling us her 'instant family.' Is that a compliment?… My brother Bobby loves our new mommy, but I think that's just because he used to see her at the pediatrician's office all the time.
Early reactions praising the ads' racial diversity were replaced by criticism regarding their insensitivity.
For a shoot set in Chicago, Racked indicated the photos failed to represent much of the city's current reality, including the social unrest, police brutality and increase in violent crime.
Versace issued a statement defending the campaign, claiming half the pictures were meant to display a fantasy world, while the others depict real-life situations.
The statement read,
One part of the story is very glamourous, almost a fantasy, a kind of dream. The other part of the story is the same people, but in their real lives. They're on the streets of Chicago. They're with their friends and families. The combination perfectly illustrates the relevance and wearability of modern Versace for all parts of one's life, from the ultra-glamourous to the everyday… The collection is in touch with the way real people live in the 21st century… Versace makes amazing clothes for the red carpet, for parties, for a special night out. But also makes clothes for the rest of your life. The new pictures show that.
Sell it, honey.
Historically speaking, the fashion industry has never really been a bastion of diversity, be it based on race, age or size.
Perhaps we're still a few years away from seeing mothers who gave birth post-puberty or a warts-and-all city backdrop in major campaigns.
Until then, we get toddlers chained to strollers, for some reason.
Citations: Versace Explains Its "Controversial" Gigi Hadid Campaign (Refinery29)