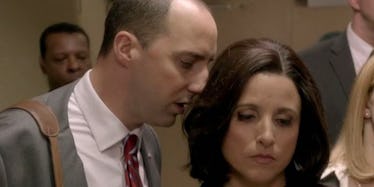 'Veep' Finale Revealed When Gary And Selina First Met And It's Perfect
HBO
Veep is filled with shady, angry people constantly flinging insults at each other day in and day out, but despite the constant abuse, it's impossible to imagine its central relationship ever deteriorating.
Yes, I'm referring to Gary and Selina — while nearly all of Selina's other relationships eventually go up in flames, she can always count on Gary to be at her side with his bottomless bag full of everything Selina needs.
That's why it was so shocking for fans to even imagine a time when Selina didn't have Gary whispering in her ear, but the flashback-heavy Season 6 finale on Sunday brought us back to Gary and Selina's first time meeting, and it was honestly the perfect way for these two to have met.
It turns out before Gary was Selina's professional bag-boy, he was a candy striper at a hospital, because of course he was.
In a scene that flashes back 24 years, we see Selina painfully giving birth to her not-so-beloved daughter Catherine. Of course, he husband Andrew is being his usual sleazy self and not helping things at all, but one candy striper comes to her rescue.
Gary walks in with a full head of hair and offers Selina a cup of chipped ice (which he chipped himself because he isn't a fan of how the hospital chips its ice). He even whispers the doctor's name in Selina's ear when she forgets it, the first of many times he'll do that.
Even though it was a tiny scene, it was the absolute perfect first meeting for Gary and Selina. Of course he's an overly attentive candy striper, and of course she's at the height of her anger and pain when he comes along.
In true Selina Meyer form, she is more disgusted by her newborn daughter than anything else and hands her off almost immediately after giving birth. Clearly, the most important person in her life that she met that day wasn't her daughter, but the guy who brought her the chipped ice.