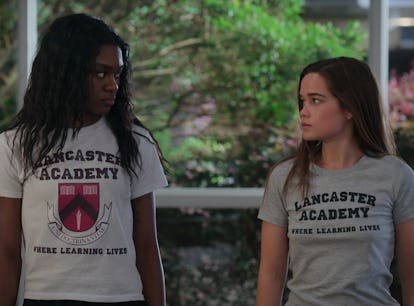 9 V. E. Schwab Books To Read If You Loved First Kill
There's a lot of literary ground to cover.
Netflix © 2022.
Victoria "V.E." Schwab is one of the most recognizable names for science-fiction fantasy horror genre fans. But for those who haven't heard of the New York Times bestselling author, Netflix's new adaptation of her short story, First Kill, will surely fix that. First published in 2020 as part of the Vampires Never Get Old: Tales With Fresh Bite anthology, this vampire tale is only a taste of Schwab's storytelling. Here are the rest of V. E. Schwab's books to read if you loved First Kill.
Warning: Mild spoilers for First Kill follow. First Kill revolves around the coming of age of teenage vampire Juliette Fairmont (Sarah Catherine Hook). Having reached the point when she needs to take her place as a fully adult member of her powerful vampire family, it's time for her to prove herself with her "first kill." Calliope Burns (Imani Lewis) looks like the perfect victim — she's new in town, she hasn't got a lot of friends, and she seems an easy takedown. But Calliope has a secret Juilette could never have guessed — she's a vampire hunter, the heir of a long line of brilliant and famous slayers. Soon enough, both girls discover that their problems extend beyond being the current heirs of a centuries-long cat-and-mouse game between their families: Their attraction to each other is more potent than their instincts to take the other down.
An enemies-to-lovers teen vampire LGBTQ+ romance? If this sounds like your jam, you're going to want to read all of Schwab's other stories.
And when it's time to watch Schwab's stories come to life again, all episodes of First Kill are streaming on Netflix.