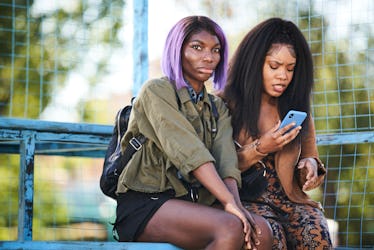 These Underrated Shows Could Become 2021 Emmy Winners Very Soon
Watch them before the hype hits.
Natalie Seery/HBO
For the 73rd Emmy Awards, the shows that dominated the nominations are the same ones everyone already knows everything about: The Crown and The Mandalorian got 24 nominations each, followed by WandaVision with 23; once again, The Handmaid's Tale dominated the drama categories while Ted Lasso made history with the most nominations for a first-time comedy program. But what about the shows that didn't dominate your group chats and Twitter? These underrated 2021 Emmy-nominated shows are worth checking out ahead of the hype train that's sure to follow once they get their Emmys statues.
The Emmys are one of the few high-profile awards shows that still haven't moved to a calendar year eligibility schedule. The Oscars have always been from January to December, and the Golden Globes recently followed suit and adopted that schedule. But the Emmys still function on the old TV schedule year, in which the season ended in May. That's why the awards show is held in September instead of January/February like all the others. That means, sometimes, titles get nominated after being over for more than a year by the time the Emmy Awards air.
The Emmys are also one of the most extensive awards shows in the business. In a crowded landscape, that means this is an awards show that pulls from everywhere, sometimes turning up shows that stayed have under the radar for their whole run.
Here are seven shows audiences will hear mentioned during the 73rd Primetime Emmy Awards that you may have originally missed.
The 73rd Primetime Emmy Awards air live on Sept. 19, 2021, at 8 p.m. ET on CBS.