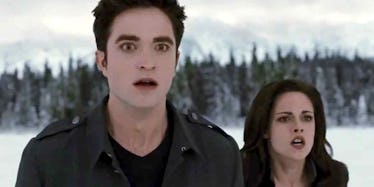 A New 'Twilight' Movie Might Happen And There's No Wooden Stake To Stop It
YouTube
Don't rule out another "Twilight" movie, folks.
Higher-ups attending the Zurich Film Festival could be hinting that "The Twilight Saga" will be returning to the silver screen at some point.
Summit Entertainment, which is owned by Lionsgate, received praise from Lionsgate chairman Patrick Wachsberger after he said the success of the film series was a "game-changer."
In addition, he also hinted that the production studio could be looking to work on another "Twilight" film.
Wachsberger spoke to Screen Daily, saying,
It's a possibility. Not a certainty but it's a possibility. It's about [writer Stephenie Meyer]. If she wants to tell a story related to those characters, we're here for her.
Aside from the fact that the fanbase for "Twilight" is nearly endless, the last film, "Breaking Dawn: Part 2," absolutely crushed the box office compared to Stephenie Meyer's last book-to-film adaption "The Host."
All we'd need to hear is that the 42-year-old writer is GAME for another "Twilight" movie and fans could be seeing their favorite characters back in action as they take over the box office once more.
Other than Lionsgate chairman Patrick Wachsberger's small hints at another movie, there hasn't been any talk of stars like Kristen Stewart, Taylor Lautner, or Robert Pattinson returning to the series -- but time will certainly tell.
Speaking of Robert Pattinson, Wascheberger recounted the early days before Pattinson landed his role in "Twilight," revealing,
Robert Pattinson only came in three weeks before shoot. An assistant, who has subsequently become a very successful executive, said, 'There's this guy called Rob Pattinson from the fourth Harry Potter…' I said, 'Well, let's fly him in from London'. He did his screen test and he got the job. I'm not going to tell you how little the salary was on the first one but of course lawyers were there to renegotiate deals following its success.
Yep, there was plenty of success stemming from the franchise after the first couple of movies. With that said, sit tight, "Twilight" fans!
Something tells me you're in for a treat...
Citations: Another 'Twilight' Movie Is Something That Could Actually Happen, Studio Warns (Complex)