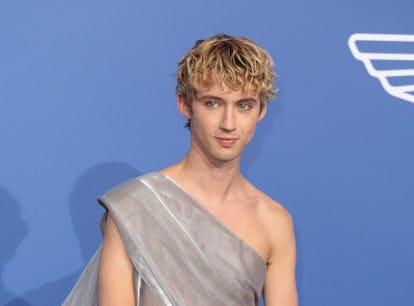 Troye Responded To The Negative Memes About His "Rush" Music Video
"I've had my own insecurities with my body image."
Mike Marsland/WireImage/Getty Images
Not everyone was feeling the rush after Troye Sivan dropped his queer summer anthem. On July 14, Sivan kickstarted his new era with his raunchiest pop banger yet, accompanied by a horny, sweat-soaked music video. While many fans celebrated the videos unapologetically queer vibe, it also sparked a bit of controversy online as detractors called "Rush" out for only casting a specific body type in its wide array of dancers and actors. Well, Sivan has seen all the memes making fun of his "Rush" video, and he responded to the backlash.
It didn't take long for "Rush" to stir the pot. Shortly after the hedonistic club thumper dropped, the social media discourse zeroed in on the music video's lack of body diversity. The video features a ton of dancers, who grind up on one another and Sivan himself in an empty warehouse, at the side of a pool, and in a grimy bathroom. Despite the video's large cast, none of the featured actors deviate far from Sivan's own body type. Critics lamented how the video featured only "white twinks and chiseled bodies," prompting thinkpieces about the damage the video may do to LGBTQ+ people that don't fit into that specific mold.
Soon enough, social media was full of jokes mocking the music video's lack of body diversity, with several memes going viral.
Sivan confirmed he was aware of the backlash in a July 18 Billboard profile, admitting that he didn't put much thought into casting the video. "I definitely hear the critique," Sivan said. "To be honest, it just wasn't a thought we had — we obviously weren't saying, 'We want to have one specific type of person in the video.' We just made the video, and there wasn't a ton of thought put behind that."
The pop star went on to say that some of the backlash has been hurtful. In particular, he brought up a snide comment made in Vulture's review of "Rush." "They were talking about [the lack of body diversity], and in the same sentence, this person said 'Eat something, you stupid twinks,'" Sivan said. "That really bummed me out to read that — because I've had my own insecurities with my body image. I think that everyone's body is as beautiful as it is, including my own, and it just sucks to see people talking about other people's bodies."