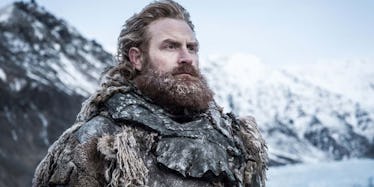 Tormund Had A Heart To Heart With The Hound On 'GOT' & It Was The Best Thing Ever
HBO
This post contains spoilers from Game Of Thrones Season 7, Episode 6. Last season, the internet went hog wild over five unwritten, completely improved glances between two actors at Castle Black: Tormund Giantsbane and Brienne of Tarth. This romance was never in the script, the actors just had fun with a single stage direction. But it lit up the biggest 'ship the North had ever seen. The showrunners insisted nothing would come of it this season, but it turns out, it's not for one character's lack of wanting it, as we learned that Tormund says he loves Brienne.
It gets even better because Tormund doesn't confess these feelings to the Maid of Tarth. Instead, he tells the Hound. You know, that guy she fought in Season 4 and left for dead. We've been anticipating how the Hound would react when he ran into Brienne again, and we're still waiting for that to transpire. (We're also waiting to see how Brienne reacts when she discovers the Hound's not dead, but that's another post all together.)
But no one anticipated that the first time the Hound would hear about the woman who nearly took his life was from her wannabe boyfriend. To say the look on his face was priceless would be an understatement.
To be honest, the entire conversation between Tormund and the Hound was just priceless, including the fact that Tormund had never heard the slang term "d*ck" before, and his whole insistence that he and the Hound are "kissed by fire" twinsies. (Of a sort, anyway.)
But when we got to their discussion of Brienne, it may have been the best exchange between any two characters walking along this trek beyond the Wall.
T: I've seen the way she looks at me! H: Like she wants to carve you up and eat your liver? T: You do know her!
And then there was the description of their children: "I want to make babies with her. Think of them: Great big monsters! They'd conquer the world!" My god, it's beautiful. If only the Hound thought so, too.
Fan fiction writers, and BrieMund shippers, you know what to do from here. I expect Tormund-Brienne baby fanfic in my inbox by 10 a.m. on Monday morning. Thanks in advance.