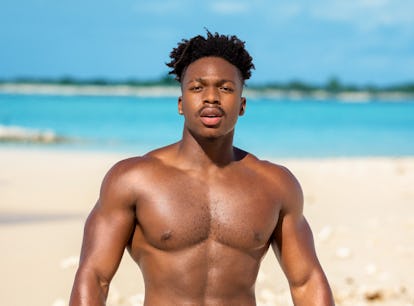 James From THTH Has A Solid Reason For Enforcing The Show's Rules
Netflix
On most dating shows, contestants have one goal in mind: finding lasting love. But on Netflix's Too Hot To Handle, love isn't the only reason cast members stick it out. There's also a huge cash prize at the end of the season, but only if contestants are able to keep their hands off each other in the episodes leading up to the finale. For Season 4 Too Hot To Handle contestant James Pendergrass, that grand prize was important, and he worked to earn it for a very solid — and practical — reason.
As fans of Too Hot To Handle know, the $200,000 cash prize only remains that big if the contestants abstain from any sexual activity. If they give in to temptation, the grand prize shrinks. During Season 4, James wanted to make sure that the prize remained as large as possible because he wanted to use it to help pay off his student loans. With that in mind, he took it upon himself to enforce the rules to the show among all the Season 4 contestants.
"I can say what made me focus was I'm a college student," James told Express. "So I have college bills to pay that $200,000 seemed really, really pretty. With that being said, it was a flick of a switch."
Here's everything to know about this Too Hot To Handle contestant who takes his studies very seriously.
Too Hot To Handle's James Pendergrass' Real Job
Like James has made clear, he's a college student, although his Netflix bio also says that he works as a physical therapist. Whatever he does, it's clear he does it with an intense sense of discipline.
Too Hot To Handle's James Pendergrass' Instagram
James posts lots of workout and fitness training videos on his Instagram. He's also a basketball player and his grid has a bunch of shots of him on the court. When he's not working on his body, James shows it off as a model and an influencer. He posts some branded content for companies like OA Essentials.
Too Hot To Handle's James Pendergrass Facts
James is based in Hawaii and so, naturally, he loves to hang out on the beach. The 23-year-old is also busy on all the major social platforms, so you can make sure to follow him even after Season 4 of Too Hot To Handle is over.
Too Hot To Handle Season 4 is streaming on Netflix.