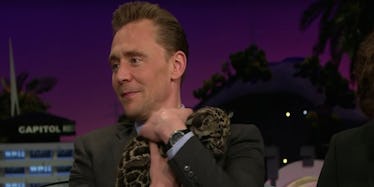 James Corden And Tom Hiddleston Holding Leopard Cubs Is Too Cute For Words
YouTube
AHHHHHHHH! TOM HIDDLESTON PLAYING WITH BABY LEOPARDS!!!!!!!!!!
Loki and Tom Middleditch stopped by "The Late Late Show with James Corden" on Monday night and got to play with a bunch of cute animals, because that's what happens when you become famous. You get to go on super-late-night TV shows and have Jack Hanna wow you with furry mammals.
Actually, fame, if you think about it, is kind of just trying to play with cute animals at earlier and earlier late-night-show time slots.
When you start out, you have to stop by Carson Daly's show (WHICH IS STILL F*CKING GOING ON, BY THE WAY) to play with cute animals, then you work your way through James Corden's broadcast with cute animals until you become Tom Hanks-level famous, at which point you get to play with cute animals on "The Tonight Show Starring Jimmy Fallon."
That's the best explanation of fame you will ever hear, by the way. You're welcome.
Citations: Tom Hiddleston gets up close and personal with a leopard cub (Daily Mail)