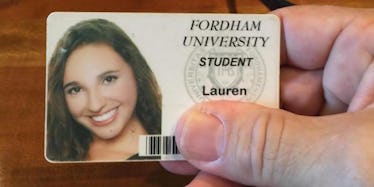 Tom Hanks Found A College Student's ID And Wants To Return It To Her
Some celebrities use their fame to get free cars, clothes, money and sex.
Tom Hanks uses his fame to help others.
The actor, who is currently in New York promoting "Bridge of Spies," stumbled upon a female Fordham University student's photo ID in a city park.
Instead of leaving the card or returning it to the university, Hanks decided to take advantage of his fame to help locate the student named Lauren.
The 59-year-old snapped a photo of the ID card, shielding Lauren's last name with his thumb, and posted the image to Twitter early this afternoon in an attempt to locate its owner.
Hanks' attempt to locate the card's rightful owner is an exceptionally kind move, especially for an actor who likely has more pressing things to do in his free time than host social media lost-and-found drives.
However, he lost a credit card in NYC just a few months prior and was exceptionally grateful when it was returned by a New Yorker named Tony. Perhaps he felt indebted to pass along the kindness Tony afforded him.
Whatever the case, Hanks' valiant attempt at locating the student seems like it will prove successful.
Lauren! I found your Student ID in the park. If you still need it my office will get to you. Hanx. pic.twitter.com/Ee9kK4V4qf — Tom Hanks (@tomhanks) October 6, 2015
Several Twitter users reposted and shared the actor's message...
Lauren, where you at? cc @fordhamnotes #fordham http://t.co/eEYUOb59Kb — Sara Gates (@saramgates) October 6, 2015
...and someone even identified the New York City student as someone she knows.
@tomhanks lolol this is my friend! pic.twitter.com/0jRDwiHVTU — Hannah Anderson (@hannahanders1) October 6, 2015
Thanks, Hanks!
@tomhanks Cue all Fordham students flinging IDs Hanksward. — Adrien A (@Amblus) October 6, 2015
Citations: Help Tom Hanks return this Fordham student's lost ID (Page Six)