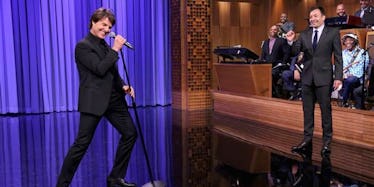 Tom Cruise Recreated 'Top Gun' And 'Risky Business' And It Was Amazing (Video)
I don't care what Jimmy says, Tom Cruise did not win this battle.
Four minutes and 30 seconds into this video, Tom Cruise hints at recreating his famous "Risky Business" nothing-but-socks-and-a-white-shirt floor slide thing.
Maybe it's because he had integrity for the game of lip syncing, or maybe it was because NBC couldn't get the full rights to the song, but he doesn't do it and the game goes on under a cloud of "what could have been" instead of "what was." Either way, he was forced to face Jimmy without that old time rock 'n' roll.
Here is way too much recap of a lip-sync battle that happened on "The Tonight Show Starring Jimmy Fallon" last night.
NOTE: The metric used to judge the competition is the LL Cool J scale. LL is the host of the TV show "Lip Sync Battle," and that makes him the Roger Goodell of lip syncing.
Contestants in this post -- Jimmy Fallon and Tom Cruise -- are therefore judged on a scale of 1 to 5 LL Cool Js.
Tom Cruise: "Can't Feel My Face" by The Weeknd
This is a very strong, but incredibly risky lip-sync song to start out with. Yes, it's topical, however, there is a lot of fast talking and some emotional depth that needs to be showcased. Tom does an OK job at it, though. His mouth is covered by the microphone at points, a clear rookie mistake, but the rest is fine. I felt what he was trying to do up there. He didn't hit a home run, but the audience 100 percent got the wind from the bat.
Score: 3 outta 5 LL Cool Js
Jimmy Fallon: "Undercover of the Night" by The Rolling Stones
Jimmy is bonkers good at lip syncing. If Jimmy put half the energy he does into not laughing at everything as he does into lip syncing, he would be our generation's Johnny Carson. This is flat out a gem of a performance, and he deserves an Emmy nomination for doing this justice.
Score: 5 outta 5 LL Cool Js
Tom Cruise: "Paradise by the Dashboard Light" by Meat Loaf
Very Meat Loaf-y. I think Tom showed us how he won that Golden Globe Award for "Magnolia" in 2000 with this performance. You can feel the Meat Loaf in this lip sync. The one drawback was it didn't feel like Tom was actually singing, which is the second most important part of lip syncing, right behind attitude. Good song choice and you can tell he was trying to have fun out there, but something was missing.
Score: 3.5 outta 5 LL Cool Js
Duet: "You've Lost That Lovin' Feelin'" by The Righteous Brothers
Jimmy trumps Tom sooo hard in this. That "BABY!" part is raw talent. I felt like I was in "Top Gun," and it wasn't Maverick who was flying the jet. Jimmy said Tom was the champion at the end of this heat, but that probably has more to do with NBC contracts than anything.
Score: Fallon gets 6 outta 5 LL Cool Js, the most LL Cool Js I've ever given anything. "I Can't Live Without my Radio" only has 5 LL Cool Js and that was literally written and sung by LL Cool J.
Final Score:
Fallon: 11 Cool Js
Cruise: 6.5 Cool Js
Citations: Tom Cruise Holds Absolutely Nothing Back in This Amazing Lip Sync Battle (POPSUGAR)