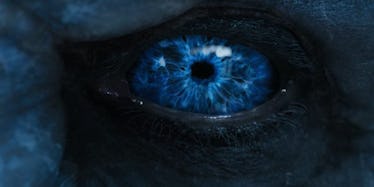 This Tiny Detail In The New 'Game Of Thrones' Promo Sparked A New Fan Theory
HBO
The first trailer for season seven of "Game of Thrones" had one major reveal that you for sure missed.
After awkwardly teasing GOT's release date a few weeks back, HBO finally released the first trailer for this upcoming season on Thursday.
Though it primarily follows Jon, Cersei and Daenerys dramatically walking through hallways and sitting on their respective thrones, there was a section at the end that may have revealed more about this upcoming season than you probably originally realized.
If you haven't seen it yet, here it is:
Did you catch it? Probably not.
Thankfully, someone on the internet did, and then had the courtesy to point out everything we missed.
The photo edits come from a Reddit user named FacelessGreensear who shows possible reflections in the eyes of the white walker from the end of the trailer.
According to the post, the right side of the walker's eye shows some sort of ice cave, having a wall broken in or something completely different. The middle of the eye shows the wall, while the left has a mysterious blotch that could be some sort of figure or building. The wet bottom part of the white walker's eyelids (ewwww, is there a better way to describe this part of your body?!?!?!) are potentially reflecting fire.
The conclusion here is that we could potentially be looking at a reflection of the wall being lit on fire or falling down.
THAT, or it's actually nothing and the internet needs to chill it with these wild fan speculations.
Personally, I am sort of leaning toward the latter part of that statement. Some of the characterizations of those blotches REALLLLLLLY seem to be a stretch. Specifically, I don't think that fire in his bottom wet eyelids was actually fire.
That being said, we know this season is supposed to be insane, so it's very possible the still comes from a scene where the wall is under siege.
I think the only way to solve this is for HBO to release the entire season today so we can verify if this is true or not.
It's the only way, HBO!
Citations: 'Game of Thrones' fan deciphers the tiny reflections in Season 7 promo (Mashable)