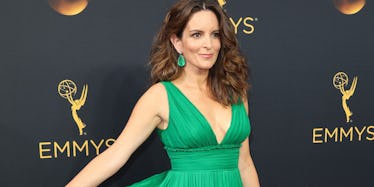 Tina Fey's Face When They Introduced Bill Cosby At The Emmys Was Priceless
Shutterstock
Tina Fey: Breathe, girl. Today is not a day that you have to look at Bill Cosby, thank God.
Jimmy Kimmel was hosting a fairly tame Emmys on Sunday night — that is, until he invited Bill Cosby to take the stage.
Now let me be perfectly clear: Bill Cosby, a man who was charged with the sexual assault of over 50 women, was not actually present at the 2016 Primetime Emmy Awards.
But for a split second there, no one was sure.
As the ethereal voice from above asked us to now welcome Bill Cosby to the stage, looks of panic crossed every actor's face in the room.
But no one looked more wide-eyed than Tina Fey, whose reaction to possibly being face to face with an alleged rapist was what anyone would say: "Oh, shit."
I mean, can you blame her?
Haha, that's a good one, Jimmy Kimmel! Trick people into thinking they are about to hear from a rapist! I totally get the comedy there! It's funny because he most likely raped tons of women!
Unsurprisingly, the joke did not go over well with the rest of the room or the audience at home.
#emmys the Bill Cosby Joke.......was SO NOT AMUSING to disrespect — A_Chinyere_Top_Model (@A_Chinyere_) September 19, 2016
that Bill Cosby joke #Emmys — kayla (@kaylalannay) September 19, 2016
Basically, same, Tina. Same.