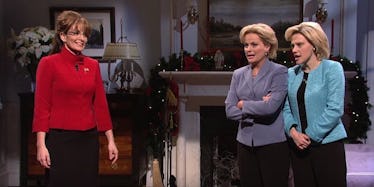 Tina Fey And Amy Poehler Return To 'SNL' As Sarah Palin And Hillary Clinton (Video)
On Saturday, Tina Fey and Amy Poehler returned to the "Saturday Night Live" stage to reprise their iconic roles as Sarah Palin and Hillary Clinton.
In the sketch, present-day Hillary Clinton (Kate McKinnon) dreams about her 2008 self (Amy Poehler). Insults, lesbian jokes, and political digs ensue.
After reminiscing with her younger self, Sarah Palin (Tina Fey) appears, and the three women discuss their failed runs for presidency during the 2008 election.
The dialogue is sufficiently entertaining, but it's Fey and Poehler as their political counterparts that really bring the sketch to life.
Check it out, up top.
Citations: Tina Fey and Amy Poehler brought back Hillary Clinton and Sarah Palin on SNL (Mashable)