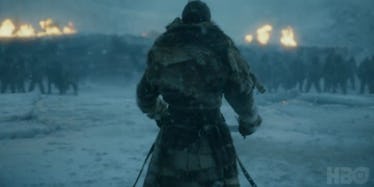 'Game Of Thrones' Costume Designer Accidentally Confirms Season 7 Jon Snow Theory
HBO
Game of Thrones is less than a week away, and fans are at a fever pitch for any insight about what to expect in coming this season. Costume designer Michele Clapton has some advice: Check their closets.
Clapton was the head costume designer for the first five seasons of the show before she decided to take a break. But she couldn't stay away and when the show asked her to design a few looks for the Season 6 finale (including Cersei's two gowns), Clapton came back.
Now, she's letting us in on a little secret about Season 7: Her clothes are key to the characters' arcs. She's also confirmed a fan theory that tells us where Jon Snow is headed.
Says Clapton:
He really embraces this Northern, over-the-Wall style, the Wildling style, and the reason he embraces it is because it's practical. Kit [Harington] was delighted that he didn't have the big heavy cape. This was agile and he could fight and move and I think it was a really interesting process just to take him out into this new look.
"Over-the-Wall" style? The hints in the trailer are true then: Jon Snow and company are heading north again, back to beyond the Wall. Does this confirm they're taking the fight to the Night King?
But that's not the only place Jon Snow is going. Apparently, he's going to meet not one, but two queens.
Clapton reveals:
We had a lot of discussions about does the cape give him presence or is it better to not have that presence? What are we trying to say? There are times when we removed it because we wanted him to be more vulnerable. Especially I think, when he saw Dany, and he went to see her for the first time in her chamber. We decided to remove it, but then when he went to see Cersei, we put it on.
We assumed Jon Snow was going to Dragonstone at some point this season, but this confirmation he'll be stopping by King's Landing as well is a huge reveal. Fans speculated heavily that filming in Seville, Spain, this past fall was, in fact, a scene in King's Landing where we would have a "meeting of the minds" with nearly all our main characters, including Cersei, Jaime, Jon Snow, Davos, Tyrion, and Dany, among others.
This confirms Jon Snow will definitely be heading there. And wearing his best cloak! We're pretty sure Cersei will wear black. Just a feeling.
Game of Thrones returns this Sunday, July 16, 2017, on HBO.