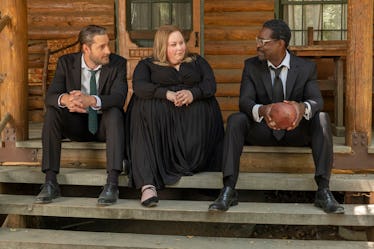 10 Things You Never Knew About This Is Us That'll Make You Love The Show More
This show was the mysterious gift that keeps on giving.
Ron Batzdorff/NBC
This Is Us initially presented itself as a story of four people who shared the same birthday... before revealing they were all members of one family big, complicated, loving family. Since then, the series became one of the most surprising broadcast shows of the late 2010s and early 2020s. It held the respect of the TV Academy alongside much larger-budget shows, and it held viewers' attention with weekly cryfests that end in gasps. By this point, now that the show has come to an end, fans know how great their favorite NBC family drama is, was, and will always be. But there are still things you never knew about This Is Us.
The surprising parts of This Is Us aren't limited to the Pearson family dramas that occur every week. (Though, as Beth perfectly summed up, it's what the show will be remembered for: "Good people, cry a lot, dramatic as hell Thanksgivings.") There are a lot of surprises about the things that go on behind the scenes. From the relationships offscreen between the actors to writing and directing the series along with starring in it, there are tons of fun fact nuggets for fans to chew on. And many of them will bring the same sort of sappy smile to viewers' faces as the Pearsons do.
All episodes of This Is Us are streaming on Hulu.
This article was originally published on