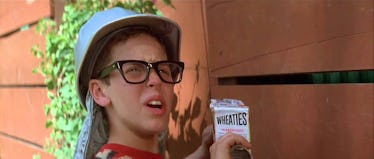 It's Been 23 Years Since 'The Sandlot' And This Is What Squints Looks Like Now
Twentieth Century Fox
Anyone who grew up watching "The Sandlot" on repeat (as any child should) knows, in spite of his geeky aesthetic, Squints always had game.
I mean, imagine being a kid that scrawny, with glasses that clunky, and still having the guts to pull a move on Wendy Peffercorn.
"But, Nina, why are we talking about Squints?" you ask. "Why today?"
Well, shut up and let me tell you, you L, 7 weenies.
You see, April 1 marks a very special anniversary. On April 1, 1993 -- 23 years ago today -- we first met the crew who arguably invented squad goals.
Those guys did everything together, from playing ball to battling the Beast. They were the crew we all wanted to be a part of. Yes, even us girls.
But in spite of our monster crushes on Benny and admiration for Ham's smack-talking skills, it was Squints who really stole the show. So it should come as no surprise modern-day Squints, aka actor Chauncey Leopardi, grew up to be a total badass.
Squints is all grown up -- and tatted.
He still thinks you're a weenie, though.
He's even a #MCM now.
But he hasn't forgotten where he came from.
Chauncey is not afraid to embrace his inner Squints to this day. Here he is on his Twitter account, "@_squintz," posting a picture at a baseball game in a backwards hat and glasses with his former "Sandlot" co-star Patrick Renna. This is what nostalgia is made of.
He's had some tough guy roles.
Here he is getting arrested for some sort of altercation involving tacos on "CSI: Crime Scene Investigation."
As Lawrence Lafontaine, Chauncey channeled his prepubescent swagger to become a mean-mugging grown ass man of the streets.
In "Gilmore Girls," he had a way with the ladies.
He played Kyle Gibson, who lost an arm in the Navy and replaced it with a hook that he calls "a real chick magnet."
In "Freaks and Geeks," he was really just a bully.
As Alan White, he kicked ass and stole Halloween candy.
You can check out more of his roles since "The Sandlot" in his demo reel.
But he'll always be Squints to us.