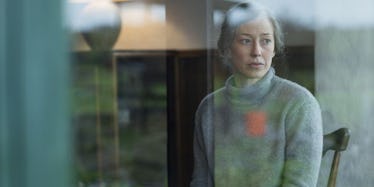 You Can Stream 'The Leftovers' Finale On YouTube, But Not For Long
HBO
Fans of the HBO series The Leftovers, rejoice.
The show's finale, "The Book of Nora," which aired on Sunday, June 4, is now available to stream on YouTube for fans who need to see the ending to their beloved show on depression and loss come to a heartwarming resolution one last time.
According to the HBO press release, the series finale (Season 3 Episode 8) will be available on YouTube for exactly one week.
For those who need a reminder, here is the synopsis for the series finale:
Episode #28 (season 3, episode 8): 'The Book of Nora' Nothing is answered. Everything is answered. And then it ends.
(Have I ever mentioned how much I love HBO's utterly infuriating synopsis? They're so great.)
The show, which was nearly canceled after Season 1 and then nearly canceled again after Season 2, never received high ratings, but TV reviewers were totally enamored by the show. They found the blend of complete emotional devastation and quirky comedy irresistible.
Set three years after an event known as the "Sudden Departure," where 2 percent of the world population simply vanished, The Leftovers was a portrait of a society trying to come to terms with the inexplicable, and how they turn to new religions and cults in order to explain the unexplainable.
The Leftovers is a glorious mediation on subjects television doesn't often tackle, including portraits of grief and how the loss of loved ones hits everyone differently.
The first half of Season 1 is hard, as it's set in the deepest depths of grief, but as the series goes on it becomes a tale of how people heal, and how they sometimes fight that healing.
You can head over to YouTube to watch the series finale, or you can check it out right here.
The Leftovers stars Carrie Coon as Nora and Justin Theroux as Kevin Jr. The finale will be available streaming on YouTube through next Tuesday, June 27, 2017.