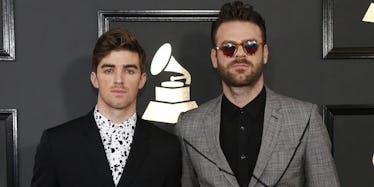 The Chainsmokers Dropped Their New Single And Fans Already Have It On Repeat
REUTERS
From Ed Sheeran to Drake, the constant flow of new music just won't stop, and happy ears aren't complaining.
Next up, The Chainsmokers are looking to make their mark as the electrifying duo get set to drop off their upcoming debut album Memories… Do Not Open.
First, Alex Pall and Drew Taggart blessed the world with "Closer" featuring Halsey in 2016.
As you probably know, the Collage single was pretty successful, managing to reel in a Grammy nomination and a number one spot on the Billboard Hot 100.
The EDM/pop duo then followed up their hot streak by dropping off two singles from their forthcoming debut album titled "Paris" and "Something Like This" featuring Coldplay.
I personally caught a ton of flack after kinda-sorta criticizing their record with Coldplay despite the fact I've come to realize it's actually pretty soothing to the ears.
Strangely enough, I feel the same exact way about the third single off The Chainsmokers' upcoming album. The song's downtempo structure is a comforting change from their popular fast-paced chart climbers.
The Chainsmokers latest single is called "The One," and it's a sweet, sweet masterpiece. Listen below!
Fans are pretty stoked about it, too.
They have it on REPEAT.
The duo issued no warning before dropping the single on Monday. Fans thought they'd have to wait until April 7 for new music.
Who doesn't like a high-quality sonic surprise?!
As usual, there are a few people who aren't too thrilled with the new song, but that's life.
For the most part, though, it's a fucking HIT.
Proof? "The One" has already reached on the number 3 on Billboard's realtime Trending 140 list. Sorry, haters!
These days, it's all about the vibes...
It's what people want -- the feel-good VIBES.
Look, it's not for everyone, but that is why other artists exist. Like what you like!
The Chainsmokers' new album Memories… Do Not Open drops on April 7.
Citations: The Chainsmokers release somber new song, 'The One' (Entertainment Weekly)