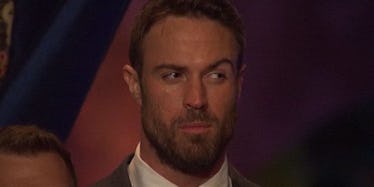 Chad From 'The Bachelorette' Just Threw Major Shade At Another Contestant
ABC
Chad Johnson from "The Bachelorette" may be the worst and best thing that's ever happened to television.
I'm not sure where to begin when talking about the 28-year-old real estate agent from Tulsa, Oklahoma.
For starters, he's an absolute savage. JoJo Fletcher probably didn't realize what (or who) she was signing up for when she met him on the show.
Not only was he obsessed with protein shakes and working out, he tried to beat up every other contestant.
Things got pretty intense at one point, and they even hired a security guard to watch him sleep. LOL, Chad.
But now the reality star is stirring up drama even after JoJo sent him home.
First, Chad posted a pic of him kissing Robby Hayes' ex-girlfriend. If you watched Monday night's episode, you know there are rumors Robby broke up with his ex Hope Higginbotham to be on the show.
SO OBVIOUSLY THAT WAS A SENSITIVE TOPIC.
But now Chad is getting involved in another contestant's love life. He posted a picture with a woman who is rumored to be Grant Kemp's ex-girlfriend.
In the comments, several users identified the woman as Grant's ex, although it isn't exactly clear which contestant on "The Bachelorette" Chad is calling out.
Chad also throws major shade in his caption by suggesting the contestant (GRANT, IS THIS YOU?) used his ex to get approved on the show.
Man, I don't know what to believe anymore.
All I know is next week is the "Men Tell All" episode for "The Bachelorette," and I'm excited to watch Chad fight the guys one last time.
It's been a great season, boys. Thanks for the memories.