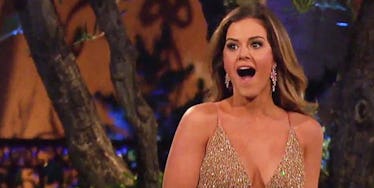 The Next 'Bachelor' Was Just Announced And Twitter Is Absolutely Furious
ABC
Man, the last season of "The Bachelorette" was one rollercoaster of emotions.
I basically cried every episode while watching  JoJo Fletcher embark on her crazy quest to find love.
Seriously, the girl went through everything. She had her heart broken (multiple times) and she had to make some extremely difficult choices.
She also had to deal with a lot of freaking drama. HOLY CRAP, THERE WAS SOOO MUCH DRAMA.
I mean, some of those guys were out of control.
From Chad Johnson trying to beat everyone up to Evan Bass crying about his ripped shirt, it's clear a couple ~questionable~ dudes slipped through the casting cracks.
But at the same time, JoJo was able to date some of the sweetest, most genuine and romantic men on the planet.
I honestly didn't know guys like this existed. A few of the men really opened up their hearts to her and it was the cutest thing in the world.
Now that JoJo's season is over, it's fair for fans to think about who the next Bachelor will be.
Typically the role is casted to a fan-favorite, one of the contestants whose time was cut short.
On Tuesday evening after "Bachelor In Paradise," it was revealed which suitor would be starting his own journey to find love.
Host Michelle Collins sat down with Sean Lowe to make the big announcement.
ARE YOU READY TO FIND OUT WHO HE IS?
The Bachelor will be Nick Viall from "Bachelor In Paradise."
Apparently Luke Pell and Robby Hayes didn't make the cut...
AND TWITTER IS SUPER PISSED.
Booooo super disappointed #AfterParadise #thebachelor — Alissa Franco (@AlissaFranco) August 31, 2016
OK BUT LIKE WHERE THE HECK IS LUKE?!?!?! THIS IS AN OUTRAGE.
Luke, if you're reading this, call me.
And Nick? Good luck I guess...