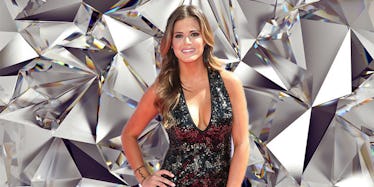 11 Times 'Bachelorette' JoJo Fletcher Gave Us Major Style Inspiration
REX/Shutterstock
If you're a fan of "The Bachelorette," you know JoJo Fletcher's season is one of the best in the show's history.
Not only is it filled with endless drama (cough, CHAD, cough), but we get lots of style inspiration from JoJo's looks.
The 25-year-old real estate developer from Dallas, Texas was a fan favorite when she competed on Ben Higgins' season.
She was cute, sweet, gorgeous, funny and always looked amazing. Seriously, how does someone look so perfect all of the time?
If you want to feel bad about yourself (LOL FML), I suggest you take a look at JoJo's Instagram. She's been sharing her hottest summer looks, and it's inspiring me to actually try in the morning and not look like a piece of shit.
Check out some of JoJo's best looks to get even more style inspiration for the summer.
Let's start with this gorgeous pic of JoJo Fletcher rocking a black lace dress with a cute floppy hat. KILLIN' IT, GIRL.
Yup, I'll never look this good in my life. It's fine, I'M FINE.
She is so cute I can't even handle it. GIMME THOSE SHOES, JOJO. I WANT THAT BAG.
JoJo in jeans, a slouchy top and a beanie defines perfection.
This is not what I look like at the beach. HOW DO HER CURLS STAY SO FLAWLESS?
Crop tops for the win. I would pay a million dollars to have this girl's closet.
Denim on denim is in, you guys. It's the perfect look for the summer.
JoJo knows exactly how to dress for a pool party. Take notes, ladies.
We, of course, have to talk about that gold gown. She looked absolutely stunning the first night on "The Bachelorette."
Gold is just her color, I guess. I'd probably look like an oversized rusty piece of metal if I wore this.
Thanks for the style inspiration, JoJo! You're the real MVP.
Be sure to follow along on Elite Daily's Twitter page as we live-tweet "The Bachelorette" every Monday night.
There are only a few men left, so who will get the final rose?! Watch with ED and we'll find out together.