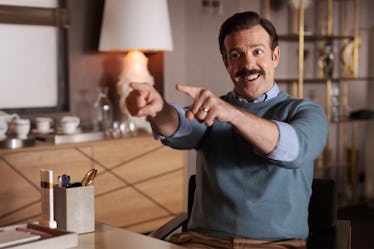 The Ted Lasso Season 2 Trailer Is Here To Make Your Whole Day
I need to know more about Ted's alter ego.
Apple TV+
When Ted Lasso was initially greenlit at Apple TV+, it seemed like a bizarre concept for a comedy series. The show was based on a very short-lived run of sports commercials from around 2013 promoting NBCSN airing Premier League (soccer) games in the U.S. Considering shows based on more popular commercials, like the GEICO Cavemen, had failed, how could this succeed? But not only did the underdog series come out a champ, but Ted Lasso Season 2 is coming to Apple TV+ this July.
Like those original adverts on NBC, Ted Lasso stars comedian Jason Sudeikis as the titular football coach — an American football coach, to be clear, until he gets hired by Rebecca Welton (Hannah Waddingham), owner of AFC Richmond, an association football (soccer) team. Despite the mix-up, Lasso figures if he can coach one sport, he can coach the other no problem.
But this fish out of water comedy of two sports divided by a common language has a secret weapon: Lasso himself. The man is sunshine incarnate. He's not just Midwestern, folksy charm on the outside; he's the heart of gold in the American dream. Like a sport version of Mr. Rogers, Lasso turns the failing team around (and gained a ton of fans in the process), making his career, the team, and the show all a success story no one saw coming. But in the new season, something else no one saw coming is on the way: Led Tasso.
This article was originally published on