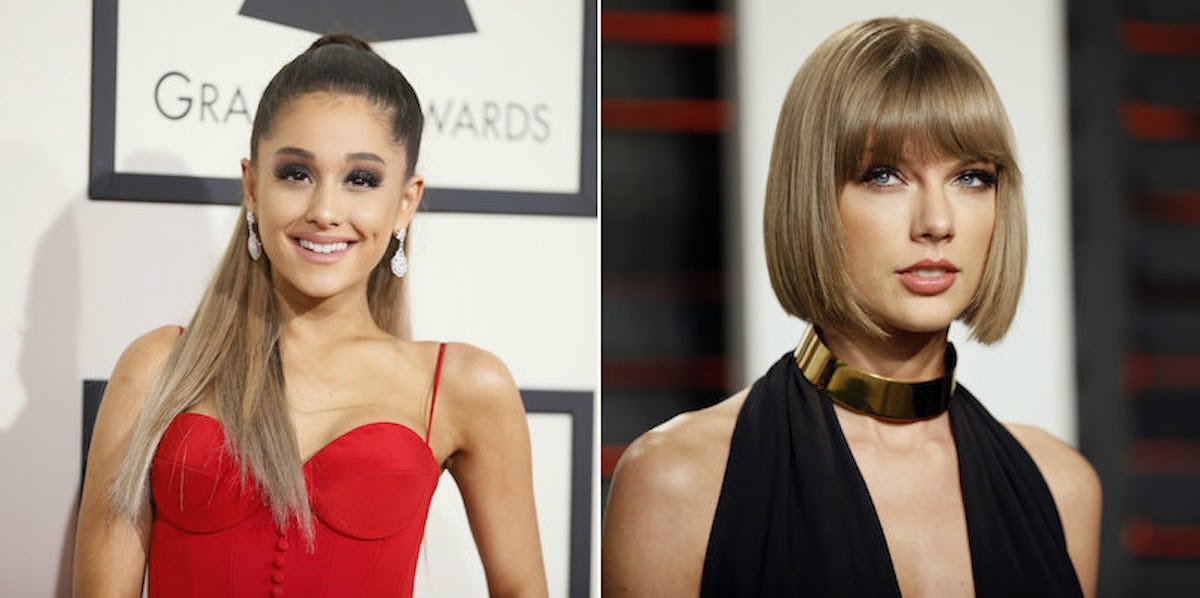 Ariana Grande Reveals Whether She'd Want To Be Part Of Taylor Swift's Squad
REUTERS/Danny Moloshok/
The fact Ariana Grande isn't already a member of Taylor Swift's squad is a travesty on par with global warming or the current US presidential race.
This injustice will likely be rectified soon (THANK THE BABY JESUS AND ALL HIS BABY FRIENDS), seeing as the "Dangerous Woman" singer is open to buddying up with Tay Tay.
In an interview with Roman Kemp on Capital FM, Grande told the host she'd be "so down" to rank among Swift's squad. The only concern Grande expressed is wondering if she'd have to "do anything weird to get in."
Frankly, we all know the initiation process for Tay's squad is probably super rigorous.
Gigi Hadid may or may not still toss and turn at night as the memory of crawling through fire and under barbed wire with seven cats in her arms keeps her awake.
Still, the work is worth the chance to be in Kappa Kappa Swift, a made-up sorority of sparkly celebrity women whose president invented Swiftmas.
Citations: FYI, Ariana Grande Would Be Down to Join Taylor Swift's Squad (Cosmopolitan)