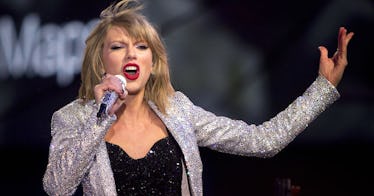 Taylor Swift Speaks Out About Being 'Slut-Shamed' When She Was Younger
REUTERS/Carlo Allegri
Taylor Swift didn't have it easy when she first found fame.
She was only a teenager when her journey to stardom began, so she had to overcome a lot of adversity to get to where she is now.
Swift reflects on her past in a new "73 Questions" interview with Vogue. The pop star will be on the magazine's cover for its latest issue, so along with a story, she answered a series of questions while giving viewers a look into her home.
In the interview, Swift opens up about her life in several ways, one of which was by sharing the experience of being slut-shamed when she was younger.
The interviewer asks,
What's the one thing you wish you knew at 19?
Swift replies,
If I could talk to my 19-year-old self... I'd just say, 'hey, you know you're gonna date just like a normal 20-something should be allowed to, but you're gonna be a national lightening rod for slut- shaming.'
The entire video is about nine minutes long, but you can hear Swift's specific comments around the eight-minute mark.
Check out the full interview in the clip above and also take a look inside her BEAUTIFUL home. It's really something you have to see, and hear, for yourself.
Citations: Taylor Swift 73 Questions (Entertainment Weekly)