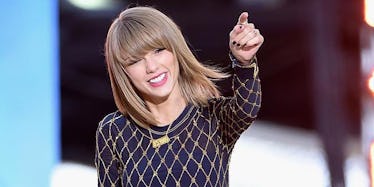 Revenge: One Of Taylor Swift's Ex-Boyfriends Writes A Song About Her For Once
Getty Images
Taylor Swift, beloved pop princess and prolific writer of ex-boyfriend anthems, may want to take a listen to Matt Healy's latest tune.
Healy, frontman for the indie-rock band 1975, was linked to Swift way back in 2014. Although the singer denied the two were dating, he has now allegedly written a song titled "A Change of Heart" about T-Swift, Page Six reports.
Let's read the lyrics and analyze the facts:
You smashed a glass into pieces / That's around the time I left / And you were coming across as clever / Then you lit the wrong end of your cigarette /You said I'm full of diseases / Your eyes were full of regret / And then you took a picture of your salad / And put it on the Internet / And she said, "I've been so worried about you lately / You look like shit and smell a bit" / You're mad thinking you could ever save me / Not looking like that / You used to have a face straight out of a magazine / Now you just look like anyone / I just had a change of heart.
Hmm... interesting.
A source apparently close to the 1975 singer told Page Six that while Taylor inspired "some of it" the song is actually "about more than one girl."
Listen to the entire song and judge for yourself below.
Citations: Taylor Swift's ex writes a song about her (Page Six)