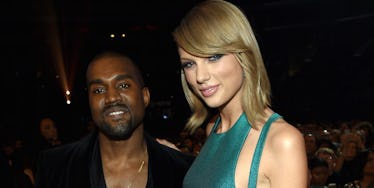 5 Things Taylor Swift Looked Like At The Grammys
Getty Images
Taylor Swift was an early winner -- the first winner, actually -- at the 58th Grammy Awards, taking home the prize for Best Pop Vocal Album before the ceremony even started.
T Swift went into the night with seven total nominations, and the Internet started buzzing the second she hit the red carpet. Between her bright Atelier Versace dress, incredible abs, new bob and hot date (Selena Gomez), there was a lot to take in.
Whether you're completely obsessing over her look or still aren't sure what to make of it, it's difficult to deny her red carpet look shared a striking resemblance to some other familiar faces.
Check out five things Taylor Swift looked like at the Grammys.
With her chic new bob and full set of bangs, Taylor channeled our other favorite girl boss, Anna Wintour...
...or, wait, maybe it's actually Violet Beauregarde we're thinking of.
OK, so "10 Things I Hate About You" came out in 1999 -- not 1989 -- but Taylor totally called upon her inner Bianca Stratford.
Remember this Disney Channel gem? It looks like Tyreesha grew up well!
Can't you just hear Velma saying, "Jinkies, Scooby! Now we've got bad blood!"
Bonus: Taylor even had a twin walking the red carpet Monday night: Kimberly Schlapman from Little Big Town!