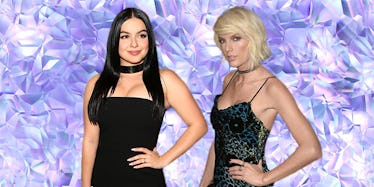 Taylor Swift May Have Gotten A Boob Job And Ariel Winter Is OK With It
REX/Shutterstock
Look, Ariel Winter isn't saying Taylor Swift DID get a boob job, she's just saying IF Taylor Swift got a boob job, that'd be totally fine!
(Except she probably didn't get one. But still. It'd be fine if she did.)
The 18-year-old "Modern Family" actress understands the plastic surgery struggle because she underwent a breast reduction for health reasons about a year ago.
Ariel has also faced much scrutiny and criticism for her appearance on social media.
So even though there's really no evidence to support the rumors Taylor Swift underwent plastic surgery, which some were speculating after seeing the pop star's Fourth of July pictures, Ariel is supportive either way.
When asked her opinion on the rumors in an interview on CBS's "The Talk," Ariel said,
I have to say, you know, even if Taylor Swift did get her boobs done, good for her if she felt like she wanted to. It took me a while to feel that way, you know, accepting myself. I just hope girls can learn to accept themselves, whatever they look like, however big or small their breasts are.
Hear, hear, Ariel!
So, you heard Alex Dunphy! Just let girls do what they want!
Citations: Ariel Winter Thinks It's Fine If Taylor Swift Got A Boob Job (Refinery29)