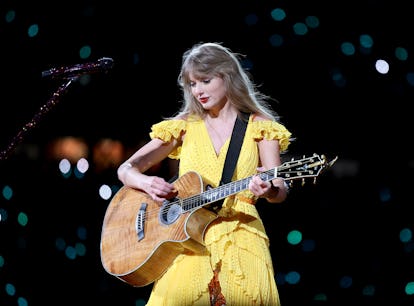 Taylor Hinted At Her Fans To Leave John Mayer Alone
Swifties are... conflicted.
Scott Eisen/TAS23/Getty Images Entertainment/Getty Images
Listen up, Swifties. Taylor Swift gave her fans a bit of a lecture during her Eras Tour performance in Minneapolis, Minnesota on June 24. Before singing "Dear John" as one of the show's surprise songs, Swift gave a clear message to over-zealous fans who might take the breakup song as a sign to start sending hate to John Mayer (whom the song is believed to be about). She urged them instead to approach everyone with "kindness" and "gentleness" — and based on their Twitter and TikTok reactions, it seems like Swifties don't quite know how to feel.
"I get to stand on this stage every single night of this tour and watch some of the most beautiful things happen," Swift said on stage. "I see so many beautiful interactions happen, and I hear so many stories about friends that were made at these shows, and I watch it happen, and it's the most unbelievable thing to watch."
Then, she gave the audience a stern talking-to. "I'm 33 years old. I don't care about anything that happened to me when I was 19," she said. "I'm not putting this album out so that you can go and should feel the need to defend me on the internet against someone you think I might have written a song about 14 billion years ago."
The singer had good reason to be concerned. After Red (Taylor's Version) was released in November 2021, Jake Gyllenhaal was heavily (and loudly) scrutinized online. But how do Swift's fans feel about her request? Here are the best TikToks and tweets about the sitch.
Some fans were not exactly dressed appropriately for Swift's surprise request.
Other fans pointed out that Gyllenhaal didn't receive the same treatment.
But there's no telling if Swifties will actually heed her advice.
It still doesn't seem like Mayer will be on the receiving end of any friendship bracelets.
Some fans also pointed out that the "Why You No Love Me" singer is one of Swift's only exes who actually has spoken out against her, calling her music "cheap songwriting."
It's still not clear how fans will react when Speak Now (Taylor's Version) comes out on July 7, but let's all remember a fan-favorite Swift-ism: "If guys don't want me to write bad songs about them, they shouldn't do bad things."