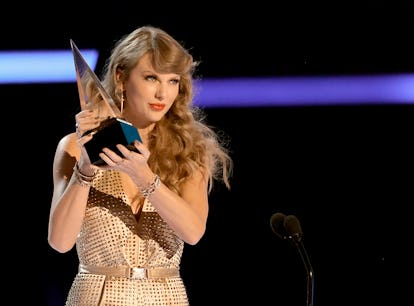 Swifties Can't Deal With Taylor's Loving AMAs Acceptance Speeches
She thanked them for her entire career.
Kevin Winter/Getty Images Entertainment/Getty Images
Awards night sweeps aren't as prevalent at some shows as others. The Grammys, for example, is well known for sweeps as everyone votes in a herd for the safest option. But the American Music Awards, which are fully fan-voted, can be all over the map. That's why fans were super stoked as Taylor Swift swept every category where she was nominated. Taylor Swift's 2022 AMAs wins wound up a historic moment, taking her to a record-breaking 40 career wins.
Like many awards ceremonies, the list of categories is far too long for everyone to get their trophies during the televised three-hour broadcast. So even before the night began, Swift had already run the pre-show table. She'd been nominated for three awards — Favorite Female Country Artist and Favorite Female Country Album for the re-record of Red, plus Favorite Female Pop Artist.
This is the first time in music history that a recorded album of this type had garnered such accolades. (Most of the time, albums like this that get recognized are like Alanis Morissette's acoustically reimagined Jagged Little Pill or a live version of the album, like Pink Floyd's Pulse, which redid Dark Side of the Moon live, from start to finish.) However, Red (Taylor's Version) also qualified Swift for Favorite Female Pop Album, Favorite Music Video, and Artist of the Year. That she took home all three of those was a shock, but it wasn't just historic for the type of album but also a personal milestone for Swift, who now stands at 40 career AMAs, the most in history.
As the night wore on, and Swift kept taking the stage, she became more emotional. She first thanked fans for caring about Red (Taylor's Version) in the first place, since this was technically a project to recoup her royalties, which is usually something fans don't embrace. (Remember The Artist Formerly Known As Prince? He did that for the same reason Swift is re-recording and became a running joke.)
She again thanked fans on her second trip up for the "All Too Well" video. Swift reminded them that the record label hadn't liked that song, hadn't seen it as viable. Only their support made it so she could do that project, which she personally directed.
But her final trip up to the stage to access the Artist of the Year award was the most emotional. Swift thanked her fans not just for voting, not just for buying Fearless (Taylor's Version) and Red (Taylor's Version) en masse, but for buying them the first time too, and for buying all her other albums. "I cannot express how unbelievable it is to me that I still get to do this and that you still care," she told her fans. "So, thank you, underlined with 13 exclamation points."