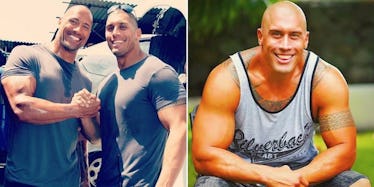 The Man Behind The Rock's Stunts For The Past 13 Years Is His Cousin
In Hollywood, you're only as good as the guy doing your stunts.
And in the case of Dwayne "The Rock" Johnson, he might have the best damn stuntman in the entire business.
The same man has held DJ down and made him look good on camera since The Rock's acting debut in "The Scorpion King" back in 2002.
But just like wrestling, it's a family business and The Rock's stuntman is none other than his cousin Tanoai Reed.
The Rock is biggest action movie star in Hollywood right now.
So it's only right he has the best stuntman in the game.
Thanks to his cousin, Tanoai Reed, he has exactly that.
For the past 13 years, their partnership has been a successful one, and they've starred in over a dozen films together.
It works really well because they have the same body type.
And they even wore the same number as football players.
They both clean up well when they have to.
Not to mention, they nailed it in all of the "Fast & Furious" films over the years.
Reed even gets the chance to meet other awesome stuntmen and women in his line of work...
Including Kevin Hart's stuntman for the upcoming film "Central Intelligence."
For the role of Hercules, Tanoai had to reach his peak physical condition to keep up with The Rock.
Because a stunt double was definitely necessary for that film.
If he wanted to, Tanoai could pass himself off as The Rock to freak people out.
But make no mistake, he enjoys his job and knows this was the role he was made for.
He and The Rock work side by side to make every scene perfect.
It's not an easy job, but Tanoai has been doing this for years.
This is what a typical shoot day looks like for Tanoai.
He's learned he needs to be ready for anything The Rock does.
That usually means something painful with glass breaking.
Stuntmen are crucial parts of every action movie's success.
And The Rock makes sure to give his partner the props he deserves.
Samoan double trouble... Hollywood stuntmen and women are often unrecognized, yet so deserving. Putting their bodies on... Posted by Dwayne The Rock Johnson on Sunday, July 19, 2015