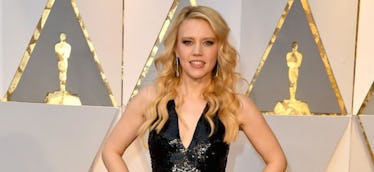 12 Supporting Actresses Who Definitely Deserve Emmy Nominations This Year
Getty Images
The 2016-2017 television season is officially over. On July 13, the Emmy nominations for this past year of television performances will be announced.
But who among this year's crop of shows is worthy of an Emmy Nomination for Best Supporting Actress? We run down the two major categories: Drama and Comedy.
Drama:
This year is an interesting one in the Supporting Actress Category for Drama. Not only is last year's winner no longer on the air (Maggie Smith, for Downton Abbey), but one of the major show that dominates the nominations in this field is also ineligible: Game of Thrones. (Season 7 won't start airing until after nominations are announced.)
That's good for those who find themselves routinely nominated, like Maura Tierney (who was nominated last year for The Affair) and Constance Zimmer (who was nominated for UnReal). Previous winner Uzo Aduba also has a fresh shot at the title for Orange Is the New Black.
But none of these contenders may be ready to go up against some of the new faces who have arrived this season. Check out our list of dream actresses we'd like to see named next month when the nominees are announced.
Samira Wiley for Moira in The Handmaid's Tale
We considered nominating her for OITNB, as well. But Wiley's turn as June's BFF Moira on The Handmaid's Tale won our hearts every time she was on screen. From her speech in Episode 3 as the laws cut off women's right's from every side to her escape into Canada, we were rooting for her all the way.
Emily Browning for Laura Moon in American Gods
The two best episodes in American Gods this first season weren't the ones featuring Ian McShane or Ricky Whittle, though both have been submitted for Best Actor. There are the two episodes featuring Browning: Laura Moon's story, and the extended Coming to America sequence. She made the series a must watch.
Millie Bobby Brown for Eleven in Stranger Things
Stranger Things might be from last fall, and won a bunch of Golden Globes already, but this is Millie Bobbie Brown's first chance to be eligible for an Emmy, and we're behind her all the way, clutching our Eggos.
Thandie Newton for Maeve Millay in Westworld
Like Stranger Things, Westworld aired much earlier in the year. But Newton's characterization of Maeve's slow awakening towards self-awareness over the course of Westworld's first season was one of the highlight performances in a highly-praised debut. And besides, it will make up for all that HBO-mandated nudity she went through.
Chrissy Metz for Kate Pearson in This Is Us
This Is Us is a reminder there's life in the old network drama formats yet. Metz was the breakout star from the first season, not only for her portrayal of the struggle with weight every woman in America is familiar with, but also her struggles with her career and relationships that had nothing to do with how she looked.
Vanessa Kirby for Princess Margaret in The Crown
Claire Foy's detailed portrayal of Elizabeth II in Netflix's The Crown may have gotten the headlines. But it was Kirby's breathing life into her younger, far more headstrong sister Princess Margaret that gave the show heart. The fact Margaret never did get to marry the man she loved in real life made it all the more heart-rending.
Comedy:
Supporting Actress in a Comedy is not nearly the newcomer's game drama is, with two of last year's nominees topping their work and deserving repeat nominations. Here's the list of Supporting Actress in a Comedy nominees we'd like to see called out next month.
Kate McKinnon for Hillary Clinton in Saturday Night Live
She won for it last year, and there's no way she's not getting nominated again this year after what happened on November 9. McKinnon humanized Hillary in a way her own campaign wished they could. And her performance of "Hallelujah" is one I still can't watch without crying.
Allison Williams for Marnie Michaels in Girls
The Emmys have a soft spot for shows that are ending. We assume, therefore, there will be at least some nods for Girls, which hasn't always gotten the attention it maybe deserves. Allison Williams' portrayal of Marnie Michaels, and the slow dawning she and Hannah drifted apart, was both hilarious and touching throughout the series final run.
Lena Waithe as Denise in Master of None
The Netflix comedy Master Of None got high praise for the second season, but nothing topped the "Thanksgiving" episode. In it, Aziz Ansari put aside his starring role to hand the reigns to Lena Waithe, telling the story of how the character came out to her family. The fact Waithe co-wrote the episode and drew from her own experience doing the same only made it that much more stunning.
Yvonne Orji as Molly In Insecure
One of HBO's breakout comedies this season, Issa Rae's Insecure was a fantastic look at female friendships. And no friendship was more important than that of Orji's Molly. Unlike some friendship though, Molly is not just there for support. She's her own character with her own problems and deserves her own nomination.
 Judith Light as Shelly Pfefferman in Transparent
Transparent is one of those comedies that's also deadly serious at times. But when it's hitting all the funny notes at once, it's usually because Light is there as Shelly. Her one-man show and her attempts at social media were great, but it was her karaoke performance of the '90s classic "Hand in My Pocket" that brought the right mix of humor and touching at the same time.
Jenifer Lewis as Ruby Johnson in Black-ish
Black-ish hit their stride in the second season, proving the modern look at a black middle-class family wasn't a one off. But it was this season, which deals with everything including the election aftermath, that was one of their best. Lewis was overlooked for a nomination in 2016. The Emmys shouldn't make the same mistake this year.