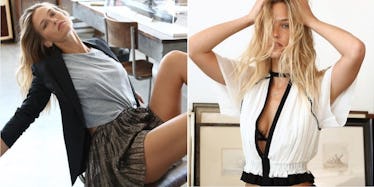 This Famous Supermodel Was Just Arrested For Alleged Tax Evasion
Supermodel and former Leonardo DiCaprio arm candy Bar Refaeli was reportedly arrested and questioned by Israeli authorities over claims she failed to report tens of millions of shekels in income (1 million shekels equals about $257,000) for work she did outside of the country, The Jerusalem Post reports.
Refaeli, who was arrested in Tel Aviv, Israel on Thursday and was reportedly questioned for hours by tax officials, is suspected of lying about her residency in order to exploit a loophole stating citizens of Israel who live abroad do not have to report their incomes from work outside of the country.
Authorities accused Refaeli of registering residences under her brother's and mother's names in order to make it seem like she wasn't living in Israel and take advantage of the rule.
AFP reports Refaeli's mother Zipora is also being investigated by authorities under suspicions she used the same loophole.
Refaeli is also suspected of receiving various undeclared perks including free use of cars, living accommodations and discounts on things like interior design and her mother's apartment.
After a ruling by the Tel Aviv Magistrates' Court, Refaeli was released on bail, but she is not allowed to leave the country.
The big question now is whether Refaeli is considered a resident of Israel or, as she told investigators, an expatriate, which enables her to pay significantly less in taxes.
Citations: 'Bar Refaeli failed to report income totaling tens of millions of shekels' (The Jerusalem Post), Model Bar Refaeli grilled over massive Israel tax evasion (AFP), Supermodel Bar Refaeli Has Been Arrested for Tax Evasion (Cosmopolitan)