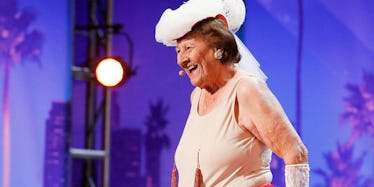 This 90-Year-Old's Striptease On 'America's Got Talent' Is Legit Everything
NBC
YOU GUYS! YOU GUYS! YOU GUUUYYYYYS!
I am very excited to share this with you. This might be my favorite thing I've written about in a while and I've gotta say, I like a lot of the things I write about.
If there is just one thing you need to know about me, it is that I am an outrageously positive person. Yeah, I'm one of those annoying people who genuinely believes that no dream is too big and you can do whatever you want as long as you really set your mind on it.
Also, I have got a HUGE soft spot in my heart for kooky confident old people with vibrant sex lives.
Needless, to say this 90-year-old woman earning a golden buzzer for doing a striptease act on "America's Got Talent" is RIGHT up my alley.
Dorothy Williams is a 90-year-old woman from Hawaii (oh my gosh, I forgot to mention how much I also love Hawaii... ugh, could this video BE any more for me?) decided that she was going to pursue her longtime dream and try out a little striptease routine for the talent show.
She introduced herself and I immediately loved her. At 90 years old, you could tell she was still loving life. From her deceased husband to the fact that she had no kids, nothing seemed to bring her down. She had that sort of confidence that only comes with age that I just go nuts for.
Then she says she's going to do a dance. At this point, I'm losing it. SHE'S SAYING BYE TO HER HATERS AND CHASING HER DREAMS! SHE'S 90! NOBODY THINKS SHE CAN DANCE, BUT SHE DOESN'T EVEN CARE! I LOVE HER!
Despite my unwavering positivity, I was a little nervous. I didn't want people to rip my girl Dorothy to shreds. But, unfortunately, I know people can be mean. Especially Simon Cowell.
So I let the video play on as I anxiously waited to see how people reacted. Lo and behold, people loved her. Even Simon Cowell admitted he wished it went on longer. Oh baby, I was pumped.
Dreams coming true? CHECK. Kooky confident old person with a vibrant sex life? CHECK.
I love this video. And you should too. DREAMS REALLY DO COME TRUE, YOU GUYS.