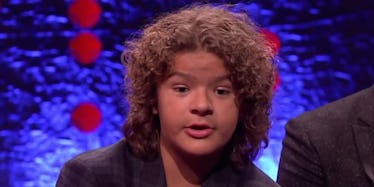 'Stranger Things' Star Reveals Rare Condition: 'I Don't Have Collar Bones'
ITV
I know you already love Gaten Matarazzo for his portrayal of Dustin on "Stranger Things" AND for his Broadway chops AND for his karaoke skills. You probably don't need another reason, but there is one, so chill.
During a recent visit to the "Jonathan Ross Show," the 14-year-old actor raised awareness for his genetic condition, Cleidocranial Dysplasia, which affects the development of teeth and bones.
He told the host,
It's a condition where you're born without your collar bones — I don't have any. It affects your facial growth, your skull growth... it affects your teeth, so that's why I don't have any — these are fake, right here.
Gaten shared his hope that others born with the same condition may see him on "Stranger Things" and feel confident and represented.
He said,
I have a really mild case, and a lot of people have it much worse than I do. And I feel like putting it into the show is really raising awareness for it. I just wanted to raise awareness for it and let people know it's not something they should be afraid of showing.
Just last Sunday, Gaten performed "Uptown Funk" for guests at the Emmy Awards with "Stranger Things" co-stars Millie Bobby Brown and Caleb McLaughlin.
The trio did their best Bruno Mars for fellow TV elite and passed out peanut butter and jelly sandwiches during the broadcast.
Gaten's decision to use his platform to so eloquently spread awareness for Cleidocranial Dysplasia serves as further proof America is right -- albeit still kind of creepy and intense -- in our obsession with the "Stranger Things" kids.
They're tiny gems sent from heaven to make our lives simpler and sweeter. Let's stop making them sing "Uptown Funk" for John Travolta's semi-sentient wax body... at least until the next major awards show.
Citations: 'Stranger Things' star Gaten Matarazzo speaks frankly about his genetic condition (Mashable)