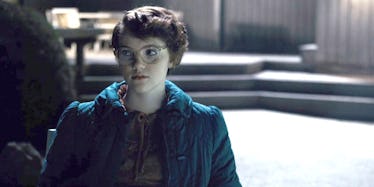 'Stranger Things' Executive Producer Reveals If Barb Is Coming Back In Season 2
Netflix
If you were holding out hope to see Barb in the next season of Stranger Things, I have some bad news.
Homegirl is definitely dead and not coming back. Sorry. It's just not happening.
This cold, harsh dose of reality comes to you via the show's producer, Shawn Levy, who sat down for a Facebook Live with The Hollywood Reporter last week.
When the possibility of Barb's return in Stranger Things Season 2 was brought up at the end of the chat, Levy did not mince his words.
He said,
No, you saw — she had like a creature, slug-worm-snake, coming out of her mouth! I don't know that there's a bounce back from that.
I mean, that's a fair point. Barb (aka actress Shannon Purser) did look pretty freakin' dead.
As Levy explained, even though so many people have been clamoring for the return of Barb (even celebrities, apparently), the show runners are being careful not to fall into the trap of "fan service" in Season 2.
Levy said,
We are going to do things that fans will be disappointed in, but I think they will be more satisfied by.
In fact, Levy seemed perplexed by the fact that so many people have convinced themselves Barb is alive. "You think you want that, but you wouldn't really want that," he laughed.
It's a fair point. If Barb were to come back to life, what would the stakes of the Upside Down really be?
But you can't blame fans for hoping, especially since we were told that there would be "justice for Barb" last summer.
Creators Matt and Ross Duffer said in an interview with IGN,
Barb will not be forgotten. We'll make sure there's some justice for Barb. People get very frustrated, understandably, that the town doesn't seem to be really dealing with Barb. That stuff is all happening. We're just not spending any screen time on it.
You can see why we're confused!
So yes, #JusticeForBarb, but not actual Barb, in Season 2. It's disappointing, but as long as Eleven gets her Eggos, I'll be happy.