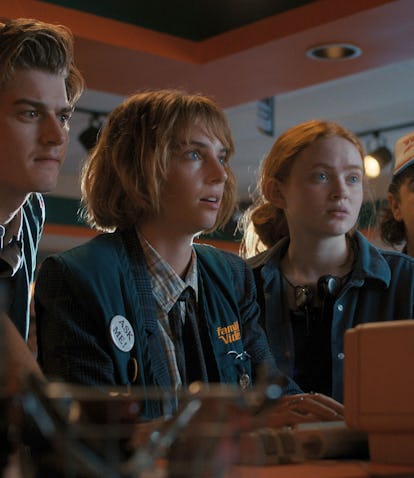 7 Stranger Things 4 Theories To Keep You Guessing Until Vol. 2
There's still so much to uncover.
Netflix
When Netflix revealed Stranger Things 4 would arrive in two parts, fans knew they were in for a cliffhanger situation. Theories abounded ahead of the season's premiere, positing everything from the return of Billy to Chernobyl being involved in Hopper's storyline. However, by the time Episode 7 ended, the Stranger Things 4, Volume 2 theories were nothing like what fans anticipated.
Warning: Spoilers for Stranger Things 4, Volume 1 follow. Although it's the spring of 1986 in the show, Chernobyl didn't come up at all in Vol. 1, and the Dacre Montgomery cameo turned out to be a red herring. Instead, fans discovered the main antagonist is, for the first time, not the Mind Flayer but a far more malignant evil: Vecna. As with the first three seasons, the creature is named for a D&D character. However, this demon from the Upside Down is far more frightening — he was once a test subject from Brenner's lab, the legendary Number One. He's also the son of Victor Creel — before he was handed over to Brenner, he killed his mother and sister and framed his father to take the fall.
Although only Eleven knows the truth about what Hawkins is facing by the time Vol. 1 comes to an end, fans still have many questions about the final two episodes of the season. Here's a rundown of some of the biggest.
Stranger Things 1 through 3 and Stranger Things 4, Volume 1 are streaming on Netflix. Volume 2 premieres July 1, 2022.