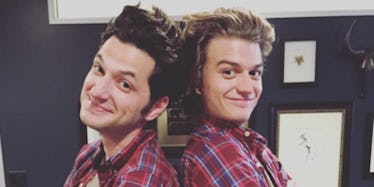 Steve From 'Stranger Things' Met Jean-Ralphio And All Is Right In The World
Look, I'm not saying I'm the reason that Steve from "Stranger Things" and Jean-Ralphio from "Parks and Recreation" met, but I'm not not saying that, either.
All I know I wrote about this theory saying they are the same person a month ago, and now they are taking selfie videos together.
A little backstory: Over the past few months, the internet has noticed some similarities between actors Joe Keery (aka Steve, the on-again-off-again douchebag of "Stranger Things") and Ben Schwartz (aka Jean-Ralphio, the pretty much full-time douchebag of "Parks and Recreation").
Honestly, they look nearly identical.
So people started talking about this, and I wrote a post laying out some evidence proving when Steve grew up he moved to Pawnee, Indiana and changed his name to Jean-Ralphio.
(Again, I'm not trying to take credit for this or anything... but, just saying, I was the first to write about this. Ben Schwartz, love me please.)
Then last month, Ben Schwartz went on "The Late Late Show with James Corden" and confirmed Jean-Ralphio was Steve's father.
(OK, I was a little off with the timing of theory, but I'M STILL TAKING CREDIT. Oh, did I say I'm not taking credit? Yeah, I lied.)
ANYWAYS, the point is because Ben Schwartz and Jon Keery are actually delightful people and not at all douchebags IRL, they got together for some fatherly son-bonding.
Jean-Ralphio showed Steve the ropes of shaving, like any good dad.
I would watch this creepy-yet-wholesome remake of "The Parent Trap" in a heart beat.
And I know I posted it before, but just watch this video one more time, because it really is scary how in sync they are.
I guess it's that familial connection.
At this point, it's unclear if the two had this family reunion just to take a few photos or if they're working on something larger together.
Stranger things have happened.
Citations: Jean-Ralphio Finally Comes Together With his Real Biological Father in this Perfect Instagram (Vulture)