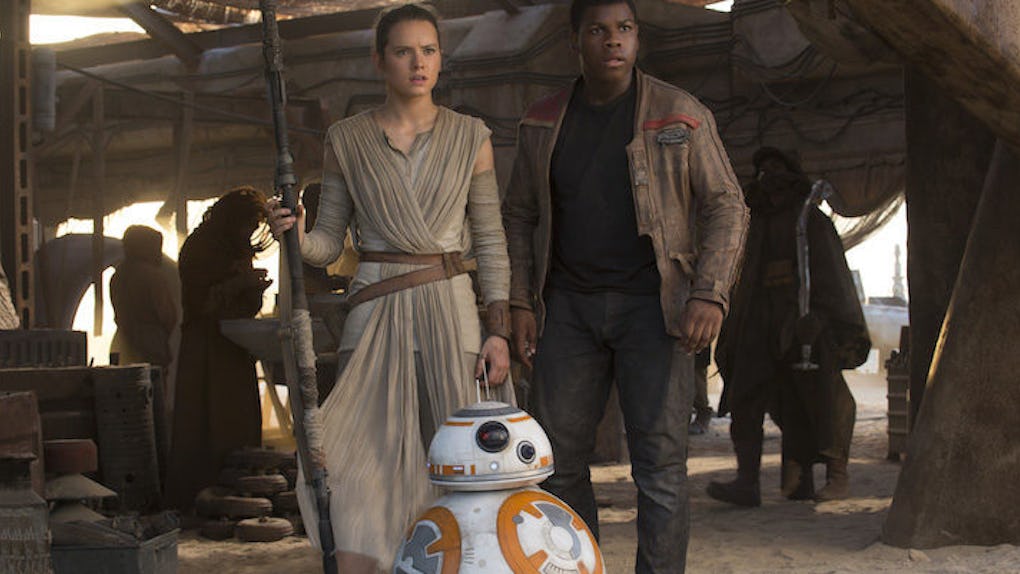 Walt Disney Studios Motion Pictures
'Star Wars' Monopoly Left Out This Important Character From The Game
"Star Wars: Episode VII" spoilers ahead!
If you've contributed to the $1.5 billion "Star Wars: The Force Awakens" has made already, you know the badass, world-saving, Jedi-to-be hero is *gasp* A WOMAN!
So it's kind of weird the new "Star Wars" merchandise doesn't include the main character.
A "Star Wars"-themed Monopoly game recently faced criticism for including four playable male characters (Finn, Luke, Kylo Ren and Darth Vader) but not Rey, the Force-sensitive female played by Daisy Ridley.
Twitter did not take kindly to this slight.
Hmmm... I know you can't include all the characters, but maybe include the main one? #WheresRey pic.twitter.com/kevq2FxNUh — Andy Tiarks (@HopivoreAndy) January 3, 2016
Well, I mean, why would Rey be in the monopoly edition for the film she is the heroine of? Madness! #WheresRey pic.twitter.com/Xy2oqkDBkt — Femmes in the Fridge (@FemmesinFridges) January 2, 2016
That was the BEST #starwars  hands down. Rey is the perfect hero. So WHY ARE THERE NO REY TOYS? #WheresRey — PatriciaKarvelas (@PatsKarvelas) December 29, 2015
But the game company, Hasbro, has an excuse: spoilers!
In a statement released yesterday to Entertainment Weekly, a Hasbro spokesperson said,
The Star Wars: Monopoly game was released in September, months before the movie's release, and Rey was not included to avoid revealing a key plot line that she takes on Kylo Ren and joins the Rebel Alliance.
I don't know about you guys, but I'm failing to see how a little action figure would convey that borderline inaccurate paraphrasing of the plot. She's in the trailer, isn't she? Spoiler: A woman character exists in this film.
I just want to build hotels on Park Place and watch my brother cry with an awesome girl Jedi, Hasbro.
Citations: Star Wars Monopoly game criticized for leaving out Rey (Entertainment Weekly)