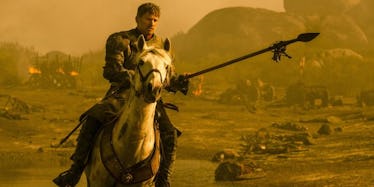 Major Spoilers For The Next 'Game of Thrones' Episode Are Online, So Watch Out
HBO
The HBO hack keeps getting worse every time we turn around. Today's data dump included something executives have been fearing since the beginning: a month's worth of executive emails (over the June-July period), that include detailed attachments of the upcoming Game of Thrones season. Put out in a publicly accessible file, this includes several hacked Game of Thrones episode 5 spoilers, including quite a few details about "the August 13th episode."
Feel free to go look at your calendar, because yes, that's this coming Sunday's episode, which we only just learned today will be entitled "Eastwatch." Out of respect for HBO, we will not publish any of the information that can be found in those files, but rest assured, this is about as detailed as you can get without the actual episode turning up online.
(Please note, we do *not* expect this will be followed by said episode turning up online. The leaking of last Sunday's episode, "The Spoils of War," was completely unrelated to the ongoing HBO breach, and as of right now, no one expects a repeat performance.)
The Hollywood Reporter lists out what is in the data dump:
The confidential folder offers a screen shot of files that largely pertain to Game of Thrones and include castings, script summaries and marketing materials, including a detailed summary of the episode that is set to air August 13.
That bit about marketing materials is very interesting. HBO has not put out proper press releases revealing titles or synopses of upcoming Game of Thrones episodes since the leak broke last Monday. Whether or not that's due to an already agreed upon strategy of them keeping things under wraps, or related to the hack has not been clear up until now.
But if they knew all their marketing materials were caught in the hack, and most likely being dumped in a few days, that might be why the radio silence. It might also suggest that we will not be getting titles or synopses for any of the rest of the Season 7 episodes.
HBO says in a statement it doesn't believe this is the last of this either, and that the hackers may be doing this for the rest of the summer.
HBO believed that further leaks might emerge from this cyber incident when we confirmed it last week. As we said, the forensic review is ongoing.
So fans of Game of Thrones who are trying to keep themselves spoiler free, this is your official warning: Surf carefully. Details for "Eastwatch" may be hiding around every corner. As J.K. Rowling says: "Keep calm and keep the secrets."