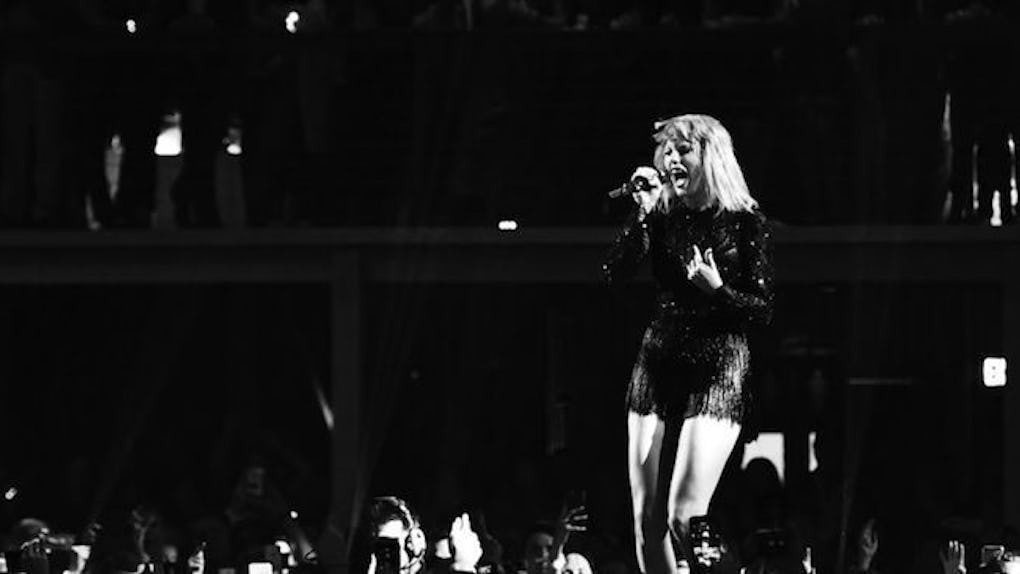 Mike Coppola / Getty Images
When Will Taylor Swift's 'Reputation' Merch Arrive? Buy Your Snake Ring ASAP
Taylor Swift fans who are already racking up the play count on the pop star's latest release, "Reputation," probably noticed that the single dropped with an all-out branding campaign. Those looking to buy are asking themselves when Taylor Swift's merch will be available. And it's understandable, given how desperately we all need more snakes in our jewelry boxes.
The Taylor Swift official website is selling t-shirts, caps, sweatshirts, hoodies, snake rings (yes, because what else do you pair with a baseball cap and a pullover?) and more. The merch appears to all be on pre-order right now, with a ship date of Sept. 12. So, if you're hurting for a shirt with Swift's face on it or a $60 snake ring, too bad, you'll just have to wait like the rest of us.
People on Twitter understandably had feelings about Swift's new merch, and responses ranged from jokes about all the snake ephemera to serious concerns about the all-out barrage of the Taylor brand.
In fact, a lot of people on social media appeared to call out T.Swift's aggressive branding, especially when the album hasn't been released yet. (Currently, just the single "Look What You Made Me Do" has been released.)
Swift herself announced the single, merch and tickets via Twitter on Thursday. Reportedly after the single's release, Kim Kardashian blocked the snake emoji on Instagram. This comes on the heels of a feud between her and Swift, which led to some calling the latter a snake.
Some apparent fans reacted to Swift's rollout less than favorably.
Others also commented on the apparent brand-first approach of Swift's latest release.
The snake symbolism in the merch is owing to the centerpiece from her latest single. The music video features an animated snake, on which the words "Look what you made me do" flashes in alternating black and red during the chorus. Some are theorizing that the snake is meant to reclaim the word after the Kim K drama.
Regardless, many commented on the unusually somber tone of Swift's aesthetic.
The "Reputation" merch is indisputably not in keeping with the offerings for fans in the past.
Some even drew a connection between the random snake memorabilia and dark magic from Harry Potter.
In fact, a lot of people make the horcrux inference, suggesting that this latest release is a work of dark magic in which Swift put a piece of her soul. (Probably not the pop star's intended goal, but who knows?)
If snake rings aren't your thing, there's plenty of other miscellany plastered with Shakespearean lettering that you can claim for your very own. Happy shopping.