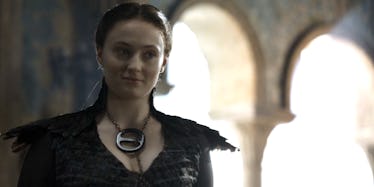 Sophie Turner Says She Doesn't Think Sansa Should Be In The 'Game Of Thrones' Spinoffs
HBO
Game of Thrones fans got some great news a couple months ago when HBO announced it had four GoT spinoffs in the works.
It came at just the right time, as the fantasy series is nearing its end in Season 8, but now it sounds like even though these spinoffs are coming, fans will still have to say goodbye to some beloved GoT characters -- in particular, Sansa Stark.
Sophie Turner revealed she doesn't really want to see her character of Sansa appear in any of the spinoffs. I mean, honestly, Sansa's already been through more than enough; she deserves a break from the Westerosi lifestyle.
But the real reason Turner wants Sansa to take her final bow in the Game of Thrones series finale is because she doesn't think the new spinoffs should focus on a time period Sansa would be alive during.
Turner told Buzzfeed she's interested in seeing some Game of Thrones prequel series, which would explain how all the warring houses formed and why they all hate each other so much. Obviously, that would mean going way back in the timeline, long before Sansa Stark was born.
I don't know about my character. I don't know. I don't know if Sansa will be included in the spinoffs, but I believe that it probably wouldn't be. I'd like to see prequels. I'd like to see how the houses came to despise each other. That would be fun!
Most GoT fans already assumed the upcoming spinoffs would likely be set far in the past and explain the lore and mythology of Westeros, so Turner might just be getting her wish.
But other fans have also thrown out the idea of a series set in the near future, where we see the Stark children all grown up and ruling Westeros as adults. But seeing Sansa as a grown-up is not something Turner is interested in.
I don't think I'd like to see older versions of our characters or anything. That would kind of break my heart. But I would love to see how the dynamics of Westeros came to be as we see them in the first season. That would be interesting.
So get ready to say your goodbyes to Sansa Stark next season when Game of Thrones ends, because it sounds like you won't be seeing her in any of the spinoffs.