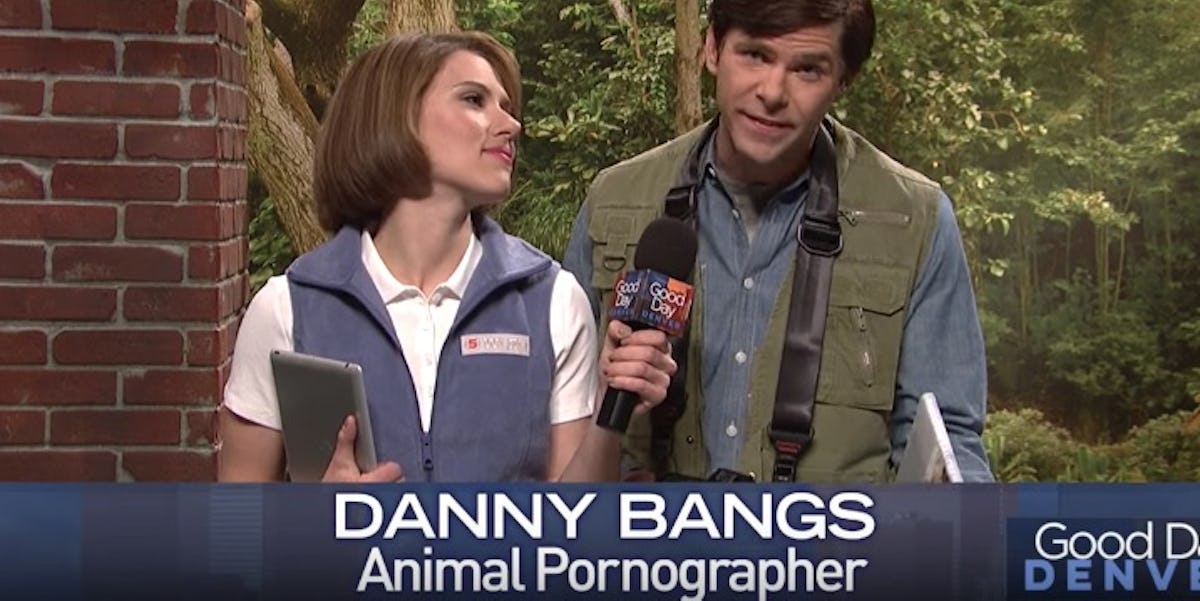 'SNL' Sketch About A 'Zoo Pornographer' Gets As Gross As You Might Think
YouTube
Let's be real. We all watch the news to get the lowdown on how our country is falling apart like a hot tub destroyed by acid in Steve Bannon's nightmare compound, but low-key, we're all hoping something goes wrong on the air.
It's all about those sweet, sweet goofs, am I right?
Take for instance the now-infamous BBC interview that was crashed by the interviewee's two children and a hero mom who not only quickly removed the kids from the situation like a ninja, but did so while her pants were down.
(BTW, this is that face you make when your friends are making total asses of themselves while you're trying to flirt with a stranger.)
Well, in this "SNL" sketch, a segment about a zoo photographer quickly unravels after he's mistakenly called a "zoo pornographer."
What starts out as an innocent line flub on the part of a newscaster turns into an onslaught of hilarious on-screen graphics.
While Danny said he'd do anything with the animals to get the right shot, this is the chyron that appeared on the bottom of the screen.
Unlike the mailman who got caught having sex with a customer's dog, this photographer is talking about taking shots of animals... not money shots. Ew.
Danny originally said he'd always come right away to take pictures with an animal no matter what species it was.
It. Just. Keeps. Getting. Better.
Danny's alphabetical book of animal pictures finished on a Zebra. What didn't finish on a zebra was Danny.
News flash: Danny did not blow a monkey. I repeat, Danny did not blow a monkey.
Of course, the sketch ends with Danny plugging his website DANNYBANGSANIMALS.COM.  By the way, I totally gambled and checked the site, and the link only sends you to the "Saturday Night Live" website.
Honestly, that horrible website domain choice is on Danny. How did you not see the inherent problems in this URL?
Citations: 'SNL' sketch about a 'zoo pornographer' escalates real quickly (Mashable)