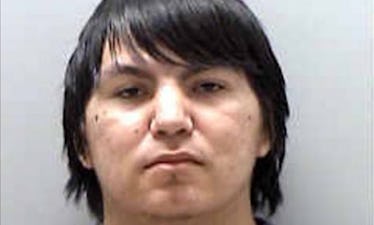 Mailman Caught Having Sex With Customer's Dog On His Delivery Route
Polk County Sheriff
A northern Minnesota mailman has been charged with burglary and bestiality after he was caught on camera engaging in a sexual act with a dog along his postal route.
A Crookston homeowner grew suspicious when his mailman, 21-year-old Brian Louis George L. Chapman, spent a strangely long time in his garage when delivering a package to the house.
The resident, identified only as TAL, has his home protected with a security system, which notifies his cell phone when someone comes onto his property.
He was about to call the post office to requestChapman no longer leave packages there, but before doing so, he took a look at the surveillance footage and was shocked by what he discovered.
Polk County Sheriff's Office Deputy Kyle Olson observed the footage himself and said Chapman was recorded on camera in early February entering the resident's garage around lunchtime. He was seen putting down a package before engaging in a "sexual act with a dog, which was in the garage."
According to Pioneer Press, the US Postal Service did not immediately respond to requests for comment on Chapman's employment status.
According to Indy100, bestiality is still technically legal in 10 states in the country: Hawaii, Kentucky, Nevada, New Mexico, Ohio, Texas, Vermont, West Virginia, Wyoming and the District of Columbia.
Additionally, the seriousness with which the crime is taken varies from state to state. Some see bestiality as a misdemeanor, others classify it as a felony. Some states require the defendant to undergo counseling and psychological assessments, and some prohibit the perpetrator from owning or living with animals.
As for Chapman, he has been charged with second-degree burglary, a felony carrying a maximum 10-year sentence with a potential $20,000 fine in Minnesota. He's also been charged with bestiality, which is a misdemeanor and is punishable by 90 days in jail or a $1,000 fine.
Citations: Mailman is arrested for 'having sex with a friendly dog on his route' (MailOnline), Minnesota postman charged with bestiality of dog on route (Pioneer Press), All the US states where bestiality is still legal (Indy100)