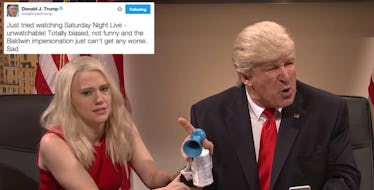 'SNL' Mocks Trump's Twitter Obsession And Of Course Trump Tweets About It
YouTube
Never has the saying "pick your battles" been so relevant for the job of president.
But you're forgetting one thing: Our new president is Donald Trump, and he can pick any battle he wants, even if it's as small as someone doing an impression of him on TV.
So when Alec Baldwin cracked out his best work in years on "Saturday Night Live," he couldn't just sit back and take it like a man. No, he threw his toys out of the stroller and launched a Twitter attack on the actor, branding him "sad" and claiming his impersonations can't get any worse (but this has been by far my favorite).
Quite ironic, really, because the entire sketch took aim at Trump's love of Twitter. He fell right into the honey trap when he posted,
Just tried watching Saturday Night Live -- unwatchable! Totally biased, not funny and the Baldwin impersonation just can't get any worse. Sad.
Hang on, how does this guy even have time to watch "SNL?" Only the other day it emerged that Trump has recently realized being president is "a bigger job" than he first thought.
True story. Newt Gingrich, former speaker of the House – and possible member of Trump's cabinet come Inauguration Day (/probably not after this comment) – told USA TODAY that Trump admitted, "This is really a bigger job than I thought."
Cool. Good to know.
And don't worry about Trump censoring himself online during his time in office; he's already made clear that's not going to happen.
During an interview with "60 Minutes," the president-elect said he would still hold the reins over his Twitter account and tweeting about issues close to his heart (everything from Alec Baldwins impersonation to reducing taxes and regulations on businesses, apparently).
So please fasten your seat-belts, the next four years will be turbulent on the twittersphere.