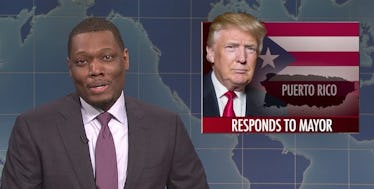 'SNL's' Michael Che Slams "Cheap Cracker" Trump Over Puerto Rico Aide
YouTube
This "Weekend Update" is one for the books. SNL rang in its 43rd season with the charming Ryan Gosling as its host, a musical performance from Jay-Z, Alec Baldwin's return as Donald Trump... and a skit fans cannot stop talking about. SNL's Michael Che slammed "cheap cracker" Donald Trump for his response to Puerto Rico during "Weekend Update," and it left quite the impression.
Che's co-host for the skit, Colin Jost, kicked off the digs by commenting on the president's response to the destruction in Puerto Rico via Twitter. "Well, after President Trump was criticized for a terrible response to Hurricane Maria, this morning he gave the people of Puerto Rico what they needed most: a bunch of tweets straight-up calling them lazy," he joked. Jost then transitioned to discussing rapper Pit Bull's efforts to assist Puerto Rico during this difficult time.
Che, however, took the political commentary up a notch. In a fiery response to the president's actions, he made no bones about stating his feelings — even calling the president a "b*tch." He said,
This isn't that complicated, man, it's hurricane relief. These people need help. You just did the same thing for white people, twice. Do the same thing...
But there's more where that came from. Have a look at Che and Jost's memorable skit for yourself.
The president certainly gave the cast of comedians a lot to work with just one day prior. Trump tweeted about San Juan's mayor, Carmen Yulín Cruz, criticizing her for "poor leadership ability," on Sept. 29. He also wrote that Puerto Rico's leaders "want everything to be done for them when it should be a community effort." He even went so far as to say that Cruz's opinion of him changed because she listened to Democrats — though no one is quite sure how that fits into discussion about hurricane relief.
Take a look at the president's Puerto Rico commentary.
Mayor Cruz did not take kindly to the response. In conversation with CNN, she said,
When you're drinking from a creek, it's not a good news story. When you don't have food for a baby, it's not a good news story. When you have to pull people down from buildings — I'm sorry, that really upsets me and frustrates me. I would ask you (Duke) to come down here and visit the towns and then make a statement like that, because frankly, it is an irresponsible statement in contrast with the statements of support that I have been getting yesterday when I got that call from the White House. Dammit, this is not a good news story. This is a 'people are dying' story. It's a 'life-or-death' story.
Though SNL took a comedic approach to the president's response, everyone can agree what's happening in Puerto Rico is no laughing matter. Almost half the island's population has been without drinking water, according to the U.S. Defense Department. Cruz noted that Puerto Rico could possibly be without power for up to eight months. Roughly 90 percent of homes have been destroyed. It's horrific, and these people need the attention they deserve.
Trump did take to Twitter (surprise) on Sunday, Oct. 1 to address the situation — a brief break for all the football players out there. Rather than address Cruz, he took used this opportunity to thank the governor of Puerto Rico and applaud the first responders' hard work. Of course, he also found a few characters to take a stab at the "fake news."
Now that Puerto Rico was addressed, Trump continued the discussion not on football (to our surprise) but on North Korea, insisting that our "wonderful secretary of state" not waste time worrying about "Little Rocket Man." If this is the rate we're going, SNL's going to have a ton of material for its next episode.